First off, let me give a huge round of hugs and kisses to all my wonderful community members at
Chictopia.com
who voted me in as
August's Style Icon of the month
. It's a very big honor and it makes me sooo happy to have this kind of dialog with alike individuals who share my love for eclectic fashion and design. It's been a great week for community involvement! Black Milk featured me on their
facebook page
and
We Love Colors
featured me and my outfit from the Etsy post on their blog. I feel very blessed to know and be in close communication with all these amazing designers and companies who are so dedicated to their customers and community members.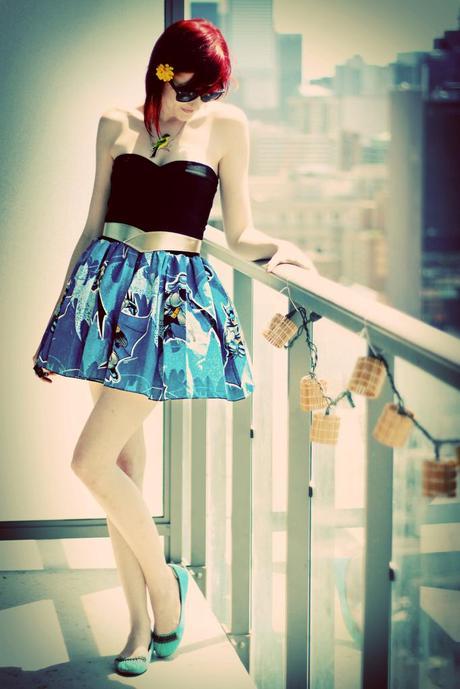 // Dress // Lynn's Rags // Shoes // Aldo // Belt // Thrifted // Necklace // Forever21 // Flower Hair Pin // Handmade - Titania Dreaming //
Over at Everyone is Ugly, Chictopia's online magazine, Iris and Daniel wrote a great wrap up article about Comic Con 2011's style and the influence comics, gaming and nerd culture have had over the fashion industry this year. I especially loved their Justice League style inspiration mood boards since I've been reading a ton of JLA stuff lately (thanks Elias!). Being inspired by my current readings and all these comic con wrap up articles I felt it was a good day to break out another one of my beautiful nerdy handmade dresses. This dress was made by the fabulous Lynn from
Lynn's Rags
. She made this gorgeous and simple dress from some vintage Batman bedsheets. This animated batman was the one I remember watching with my bros when I was a kid, so even though it's not my fav design, it's got great nostalgic value for me. I remember my brother dressing up as an
actual
bat one year for Halloween, so great.  We loved the show but I always had trouble with the fact that the bad guys always lost....I just thought they might be misunderstood...silly Laura.
"The villain, in his mind, is the hero." - Jim Krueger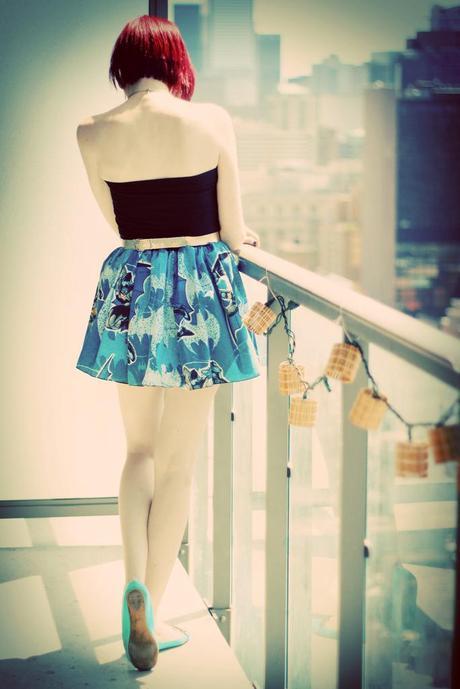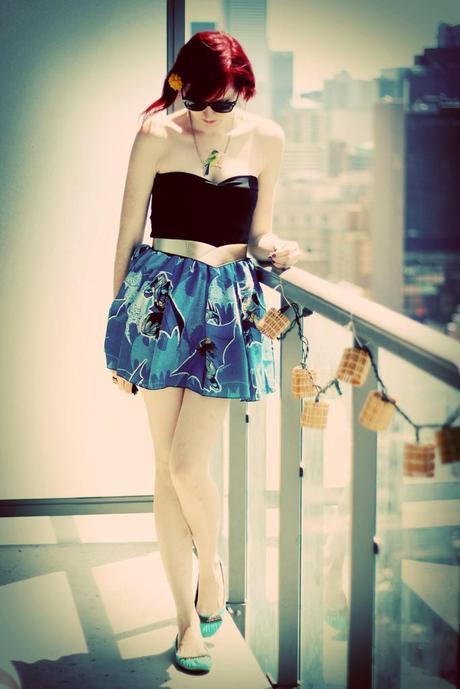 I strapped on my Wonder Woman golden belt around the waist of this dress to complete the JLA-esque feel of the outfit. I was pleased at how many people enjoyed this overly geeky and weirdly thought out outfit. I think that sometimes themed outfits are a lot of fun to wear and you can do it in varying degrees of obviousness. You can be as simple as finding supporting coloured items to match your chosen themed or character based outfit. Or you can go as far as styling almost costume-esque accessories and pieces of clothing to go with your daily style comic book character outfit. If done in the right way, you can get away with wearing your wonder woman golden belt without it seeming like you're wearing a costume. But, all the while, in secret, knowing you are wearing your very own superhero costume! It really was the perfect outfit to wear around on that summer day; light, simple, breezy and most of all, FUN!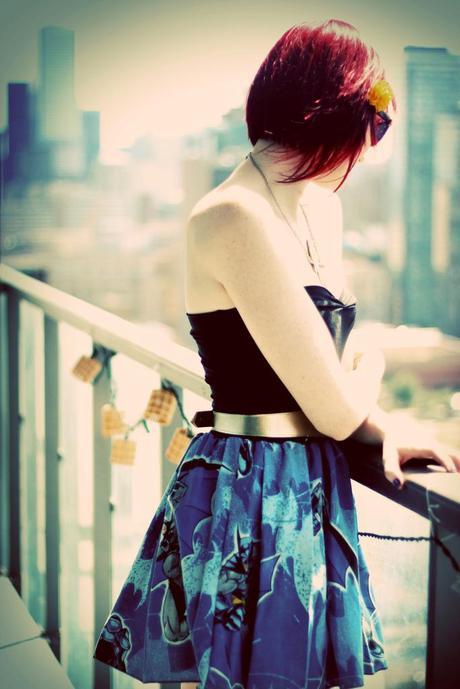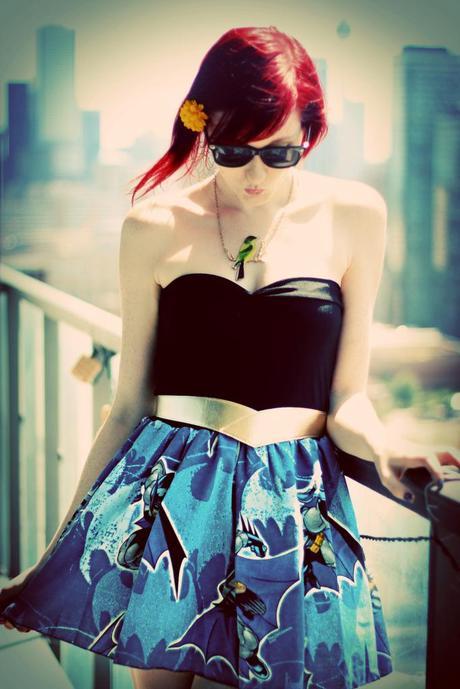 I spent all day Tuesday hanging with my favorite girl, baby Scarlet, in Trinity Bellwoods park. I love getting to spend my day playing with her. We chased after doggies, played in the wading pool, she slept in the stroller while I enjoyed a coffee over at the White Squirrel (thanks for the suggestion Courtney!) and we both sat under a tree reading comics for the rest of the afternoon. Elias lent me JUSTICE by Jim Krueger & Alex Ross to read and I got to read Scarlet her own baby comics. We had a lovely time. It's nice to nerd out with my baby girl.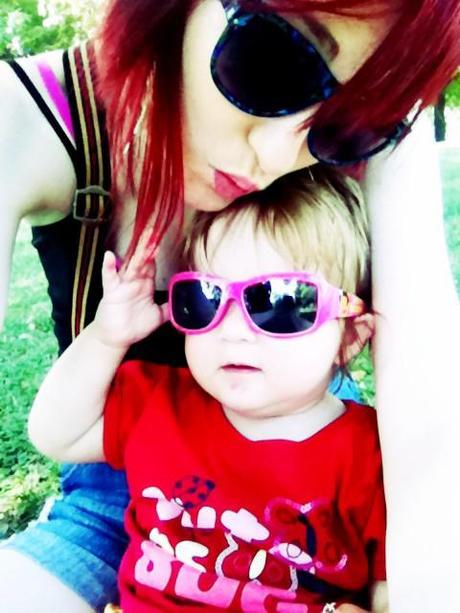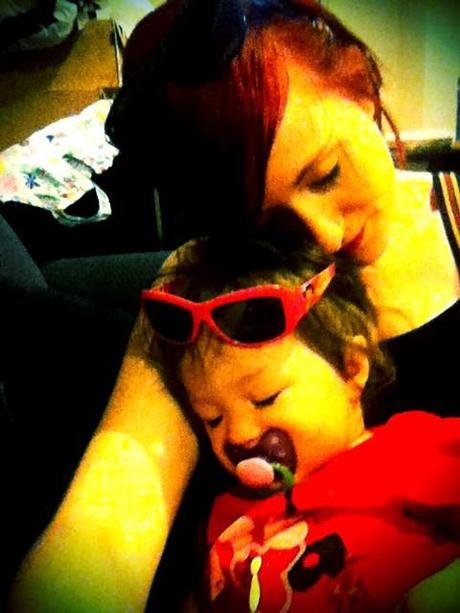 // Matching Wayfarer girls // Soooo sleepy after a long day playing in the sun //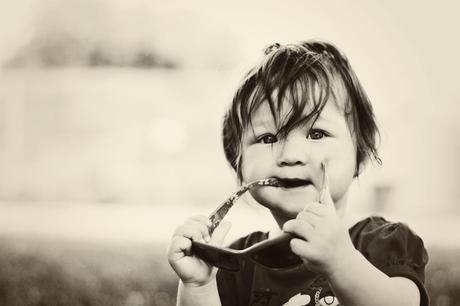 She's pretty much my favorite person. Despite the fact that she can't really speak, we have awesome convos together ;) And she likes puppies just as much as I do. Plus, everyone loves babies, so it's extra easy for me to get people to let us play with their puppies! Scarlet and I made sooo many friends over at the White Squirrel Coffee house the other day after a long play in the pool. I think all the hipster dudes and dudettes thought we were a pretty cute odd couple. Me in my Batman dress and her holding her baby batman, spiderman and wonder woman comics (I say baby cause they're meant for little kids, not that it's batman, spiderman and wonder woman as babies....although I'm sure that exists somewhere). God bless nerdy parents for giving me a tiny little nerdy chic to hang with / babysit.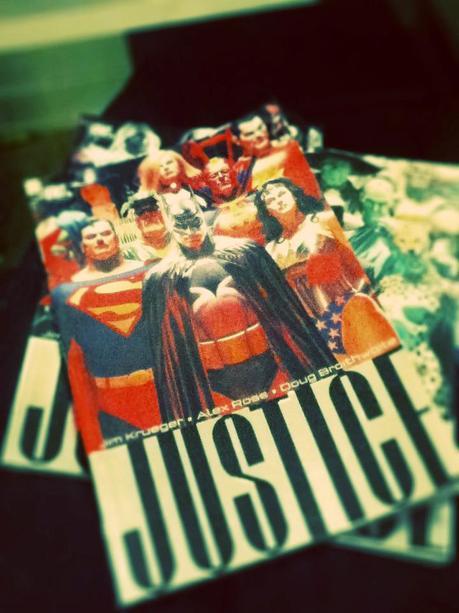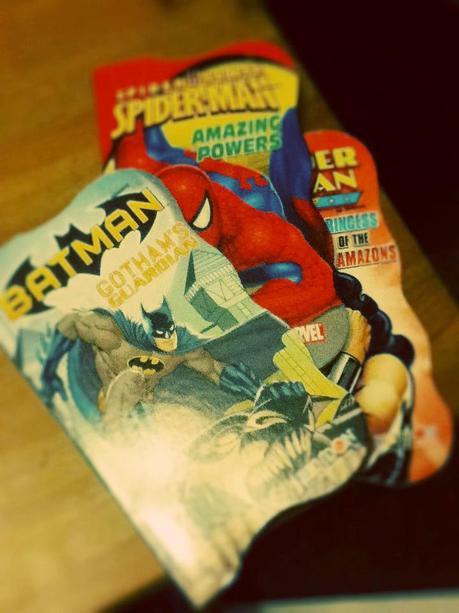 // My comics // Scarlet's comics //
I'm starting to get sad about the fact that we're already one week into August....it's been such a lovely summer. I hope Scarlet and I get to go out and play in the water once more before they close the baby pool... This weekend is looking like it might be one of the most busy weekends ever. I am literally dashing all over the city/province this weekend trying to make it out to all the events being held over three short days. But I'm also excited for all the various fun things going on so I can't wait to share with you the recap of this weekend's madness. What are the rest of you up to this weekend? How are you making the most of what little of summer is still left? Looking forward to hearing from you! Welcome all you new and fantastic followers!