The Festive Season has started!! The celebrations start with Navratri followed by Dusherra and Diwali.These n

ine days of Navratri are most awaited and is one of the most vibrant festivals of India.People put in every effort to make the festival as grand as possible!!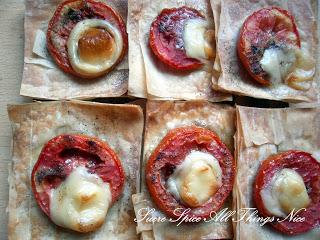 Im continuing with my new found love with filo sheets!These are so versatile and so damn easy and now that the festivities have started these would come in handy as a great snack!
These are quick to make and ideal for snack or as a starter with wonderful Italian flavors of tomato,pesto and Mozzarella!!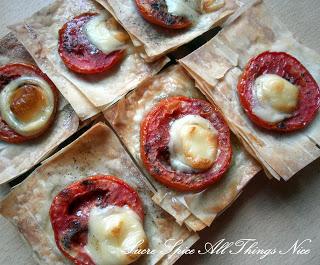 Tomato n Pesto Puffs
2 Filo Sheets ( these are quite large)

2 Tb Pesto Sauce




2 Tb Butter




75 gms Mozzarella cheese




1 egg beaten




2 large tomatoes (can substitute with cherry tomatoes)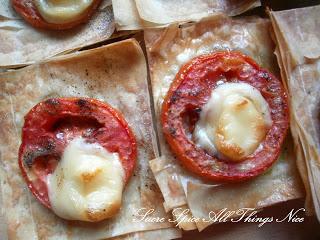 Preheat oven to 220°C 

Spread a sheet on a flat surface.Cut the sheet into 3 inch squares and butter all of them .Stack 3 squares on one top of the other.Place them on a lined baking tray.

Spread approx. 1 tsp of pesto sauce on each square,in the center, leaving a small border all round, top with tomato round slices on pesto

Season the tomatoes with salt and pepper.Put about 2 tsp of grated cheese on top of the tomatoes.

Brush borders with beaten egg and bake for 10 – 12 minutes until filo is golden. 




Serve warm.