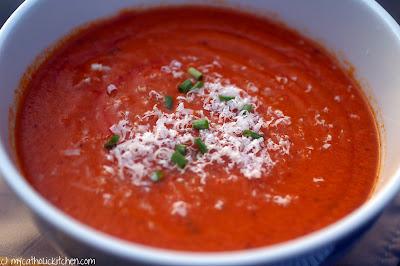 I planned ahead for this recipe. Over the summer I grew a garden and had extra tomatoes. They were skinned and seeds removed.  I chopped them roughly and slipped them into a zip top bag. I froze them until now, to use in this soup. It is perfectly fine if you use canned  tomatoes. Make sure you get a good kind. I recommend San Marzano, a plum variety.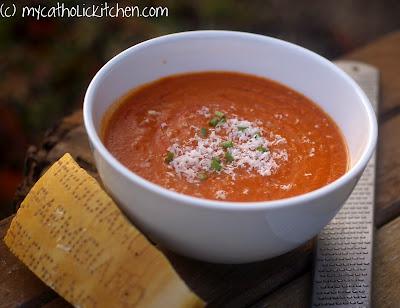 Tomato Bisque
1 tablespoon butter
1 medium onion chopped fine
1 cup carrots chopped fine
2 celery stalks chopped fine
3 cloves garlic minced
30 oz fresh  tomatoes peeled or 32 oz canned tomatoes
32 oz vegetable broth
1 basil leaves
2 bay leaves
1 tablespoon salt
1/2 tablespoon pepper
2 tablespoons sour cream
Parmigiana Reggiano cheese for serving
Directions
Melt butter in a large pot over medium heat. When butter is melted add onion, carrots, celery and garlic. Cook stirring occasionally until the vegetables are translucent. Add the tomatoes and vegetable broth salt and pepper and stir everything together. Take the parsley, basil and bay and put them in a piece of cheese cloth. tie a string around it to secure. This is called a bouquet garni. Drop the cheese cloth in the soup pot. Reduce heat to simmer and allow to cook for 1 hour. Remove cheesecloth. Add sour cream. Allow to cool and process in a blender or food processor. Reheat when ready to serve. Ladle into bowls and garnish with grated cheese.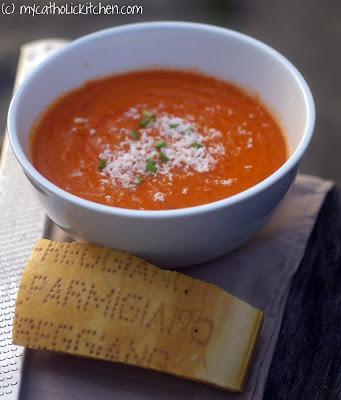 Peace be with you, Veronica