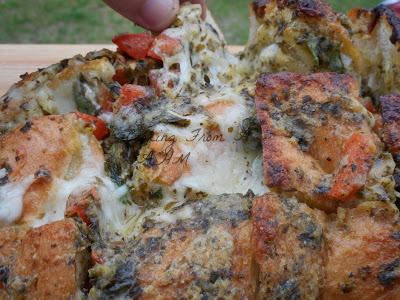 Good Morning Everyone,Yesterday morning I woke up with an idea for this great Pesto Tomato Mozzarella stuffed bread :-) This bread is so good, you can't just stop at one piece :-)
Tomato Basil Pesto Mozzarella Bread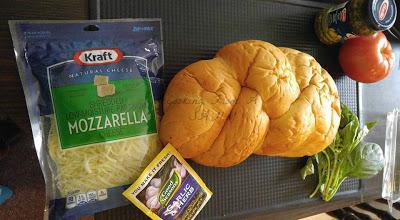 One loaf of french bread, or your favorite loaf of Italian1 tomato chopped small8 basil leaves sliced into strips1 Jar of Pesto1 bag of Mozzarella1 packet Good Seasons Garlic and Herb dressing mix1 Stick of butter
Take your bread and cut slits side ways and length ways so its criss cross. Set it aside. Now take your tomato and dice it small and put it in a cup. Take 4 spoons full of pesto and your chopped basil and mix it all up. Now take half the bag of mozzarella and stuff it in all the cracks of the bread.  Next take spoon fulls of your tomato mix and stuff it in all cracks of the bread. Use all your tomato mixture but make sure its in every spot. Now stuff the rest of the cheese in the spots. Now melt your butter and mix in your garlic herb seasoning, and 2 spoon fulls of pesto. Whisk till combined. Now brush all over the bread.  Wrap your bread up in aluminum foil and bake till cheese is melted at 350 degrees. Then take off aluminum foil, and raise temp to 400 degrees. Brush more butter mixture over the top and bake till golden. Take out and let it cool for a few minutes. Then enjoy!!!!