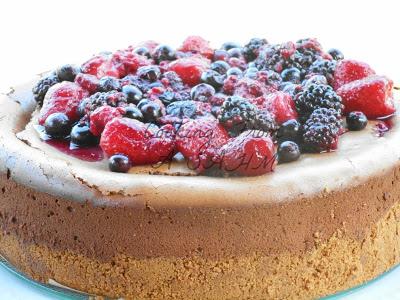 Hello Everyone :-) I've been wanting cheesecake for weeks, so yesterday I created a Dark Chocolate and Berry Cheesecake :-) It is good :-)
Dark Chocolate and Berry Cheesecake
2 packages of softened cream cheese1 C Sour Cream3 eggs1/2 C Sugar1/4 C Flour1 C Dark Chocolate Chips melted
Peanut Butter Graham Cracker Crust
2 Cups crushed graham crackers1/3 C Peanut butter4 T melted Butter
Topping:Frozen Berries
Mix till combined. Press inside your spring form pan or pie plate.
In a bowl add your cream cheese, eggs, sugar, flour and sour cream. Mix till smooth and combined. Then take your melted dark chocolate and drizzle in while mixing it.  Now pour it into your pan. Bake at 350 for an hour or until knife comes out clean.  
When its almost done, put your favorite frozen berries in a pan with about 1/4 c of water. Heat till the berries are thawed out. Strain.
Take out cheesecake and put it to cool down. Once its cooled top it with your berries.