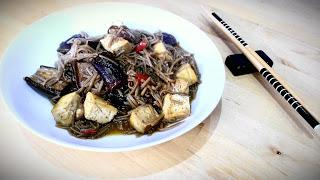 Ingredients

6 baby aubergines, 150g tofu, 3 tbs pomegranate molasses, 1 red chilli, 3 tbs olive oil, 1 tsp soy sauce, 175g soba noodles.
Serves:

 2 

Preparation:

 30 minutes (plus overnight for marinating)
Being allergic to soya, tofu is something that never makes its way into my vegetarian cooking. When I was asked recently to come up with a recipe, I asked my guinea pigs to describe the texture for me and as a result decided to treat them like the aubergines - melt-in-the-mouth sponges to soak up delicious flavours. The marinade is sweet and spicy from the pomegranate molasses and chilli combination, but with a smoky umami undercurrent from the soy sauce.

1) Slice the tops from the aubergines and slice in half lengthways. Sprinkle the inside half with salt to draw out the bitter juices, then wipe them with some kitchen towel after 5 minutes. Slice each piece in half widthways.

2) Slice the top from the chilli and slit it lengthways. Scrape out the seeds with your knife and discard. Cut the flesh into pieces and add along with the chunks of aubergine and tofu to a freezer bag.



3) 

Add the pomegranate molasses, oil and soy sauce to the freezer bag, seal and shake well. Leave in the fridge overnight.



4)

 Pour the contents of the freezer bag into an ovenproof dish and roast for 25 minutes at 200 degrees.



5) 

Add the noodles to boiling water and stir until soft (about 5 minutes), drain and pour in with the aubergines. Season with a little salt and serve hot or cold.