SAN ANTONIO, TEXAS – A three-year wrongful death legal battle ends in heartache for Monica Meza.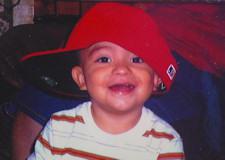 It took jurors a little more than two hours in a 10-2 vote to say there was no negligence in anesthesiologist, Brian Seastruck's part in the death 22-month-old, Maddoux Cordova, Meza's son. However, the nurse who administered the morphine is to blame, according to court records. The decision was announced Sept. 28, which ended two weeks of testimony.
"I don't understand how this could happen," Meza said about the verdict. "He is the one who approves the medication. He should be held responsible."
The toddler was having a medically supervised routine dental procedure in 2009 to cap several cavities. The nurse, under Seastruck's orders, administered the improper amount of medication. According to court records, Maddoux went through the dental procedure "with flying colors — perfect vitals," leaving Seastrunk with no indication anything was wrong. He was sent home and Meza dropped him off with her mother.
Meza said Seastruck never checked her son before they left the facilities. His blood pressure nor pulse was taken. Within a few hours, he was not breathing and rushed to the hospital. That was on Dec. 11, 2009. He stayed on life support until Dec. 27. A brain scan showed no activity, his mother said.
"I lost my son," she said. "I have to live the rest of my life without him and he just gets to go back to work. There's something not right about that."
According to an investigation last year by FRONTLINE and the Center for Public Integrity, in the past 15 years, 31 children have died during or following dental treatment. Today, that number has climbed to. According to the University of Texas Health Science Center San Antonio Web site, every practicing U.S. dentist will face approximately eight potentially life-threatening medical emergencies in their offices every 10 years (i.e., approx. 150,000 in the U.S. every year).
There is no national database to track patient deaths at dentists' offices or following dental procedures. In fact, dentists are limited in their ability to share information with the public due to federal patient privacy laws. To help combat these senseless deaths, the Virginia Beached-based, Raven Maria Blanco Foundation was formed. Raven was 8 when she died in the dentist's chair during a routine procedure. She received three times the average range of sedatives for a child of her weight and health.
In Maddoux's honor, RMBF donated an Automated External Defibrillator (AED) to the San Antonio Christian Dental Clinic.
About the Raven Maria Blanco Foundation
The Raven Maria Blanco Foundation, Inc. (RMBF) is a 501 (c) (3) non-profit organization founded in 2009, two years after the death of eight-year-old, Raven. RMBF honors the 46 children who have passed away due to complications during dental procedures as well as the 46 families who are left to endure this tragic loss. In the name of these lives, we dedicate the impassioned pursuit of medical emergency preparedness reform within the dental community.