Today is the day when many expect to witness a thrilling battle. Why? Because, England, the most erratic, entertaining and engaging team of this World Cup takes on the degrading West Indies. England have to win today, to avoid the embarrassment of being ousted in the first stage. And, of course, also to give themselves a chance to make history, which comes once every 4 years. If England don't make it through, they will be missed immensely, not just by English fans but even by the fanatics who have some hatred against England. For, they are the team which has produced the most thrilling contests.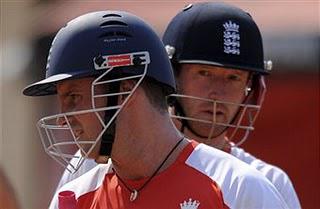 England started with a win against Netherlands, followed by a tie against India, a loss to Ireland, thrilling win against South Africa and finally, losing to Bangladesh in a see-saw battle. So their campaign reads like this - win, tie, lose, win, lose, which indicates today's clash is going to be a tie or an England win. At the moment, West Indies and Bangladesh have 6 points each, England 5. Today's win will take England's tally to 7, a tie to 6 points. Bangladesh and West Indies can still send England packing by beating South Africa and India respectively, but as we all know, it is unlikely. Also to be noted, West Indies have a net run rate of +2.206, England +0.013, Bangladesh -0.765. So, in case these teams finish on equal points, Bangladesh will not qualify.
I expect England to triumph comfortably, unless the games comes to a halt due to reasons like rain. England towers over West Indies in each game they play, in all formats. The match will be held at Chennai, where England succeeded in defending 171 against South Africa earlier this month. Ajmal Shahzad is doubtful while Strauss and Swann are recovering well from illness so they are likely to play. News of James Anderson's exclusion have been doing the rounds, but in case Shahzad doesn't play, Jimmy certainly will. He is a key player, not because he is expected to perform but because, though he has bowled well at times, he tends to give shed loads of runs at other times. At Chennai, vs South Africa, he took 2/16 in 6 overs, so there is a good chance he'll have a role to play. I seriously hope Strauss attacks if England manage to trouble Windies.
Shoaib Akhtar all set to retire
After a career filled with injuries, drugs, fiery bowling spells, heroic performances, indiscipline, ban and many other controversies, the colourful character has announced retirement from International cricket after the World Cup.
That's all I had to say for now, tune in to England vs West Indies at 02:30 pm IST (09:00 GMT). Cheers.