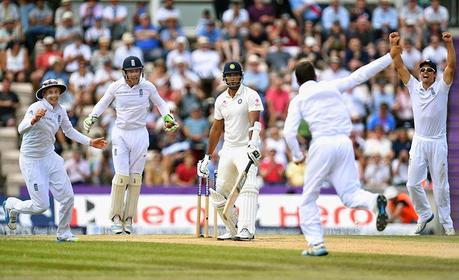 England vs India 3rd Test: 27-31 July 2014 played at The Ageas Bowl, Sothampton
The teams may have us let down but the series is certainly living up to its hype. It's good that it's a 5 Tests series, rather than the usual 2-3 Tests series we have. 5 Tests are definitely enough to test the teams. While England looked to be all over the place after the Lord's Test, they have come out good in this one and have proved that they really are a good team in Tests. I would not say I was wrong in criticizing them. They were certainly worthy of all the criticism bestowed upon them by everybody. And sometimes, it's exactly what's needed. England must have realised that they need to get their act together and experienced batters like Cook and Bell need to take responsibility rather than depending on newbies and all-rounders for runs.
Cook and Bell responded well to the call. Cook, with a 95 in the 1st innings and 70* in the 2nd. And Bell with 167 in the 1st. England, after having declared at 569/7 and getting India all out for 330, leading by 239 runs, choose not to enforce a follow-on, presumably to give their fast bowlers some rest. In the 2nd innings, after Robson was caught out on 13, Ballance, Bell and Joe Root, all batted with a strike rate better than Cook, as England needed to score some quick runs to set up a total India could not achieve and also to have enough time to get India all out again. While Cook was holding one end nicely, other batsmen did their job well, particularly Joe Root, scoring 56 runs in 41 deliveries.
People are coming up with all sorts of reasons, but in my opinion, Cook's runs are what have changed the course of the series. The captain is more important than many might believe. It's the captain which leads the team and thus, the captain's intent, hunger for victory and form matters a lot. In the same way, I feel India's loss has a lot to do with their captain, MS Dhoni who looks like he might as well be an engineer in a software firm. That is how Dhoni looks to me - old and uninterested.
It should not come as a surprise that India lost. England were very disappointing at Lord's and as soon as they notched up their game, India lost theirs completely. India looked quite dispirited post their victory in the 2nd Test, like it hardly
 that they won and I suppose that's the reason. If it hardly matters whether you win or lose, why would you put in so much effort as to defeat a team playing well? I do not know what the reason behind this is, but clearly their captain does not look passionate anymore and possibly it's because he has played too much cricket for his like. Or that his interest lies more in the IPL and he has lost interest in playing for India or at least Test cricket.
That will be all for now, dear friends. Tune in to catch the 4th Test match between England and India live from Old Trafford, Manchester, James Anderson's home ground. I'd also like to mention that Jimmy celebrated his birthday by taking 5 wickets on July 31 and he has been found not to be guilty in the hearing held on August 1 so he will be playing in the remaining two Tests unless England decides to rest him for the 5th. They may not need to, as England won't be playing a Test match post this until next summer, that is May 21.
More..
England bounced out at home by India
See-saw battle ends in Draw on dull pitch
No room for One-Day
Has IPL changed cricket for better or for worse?
What makes a team win?