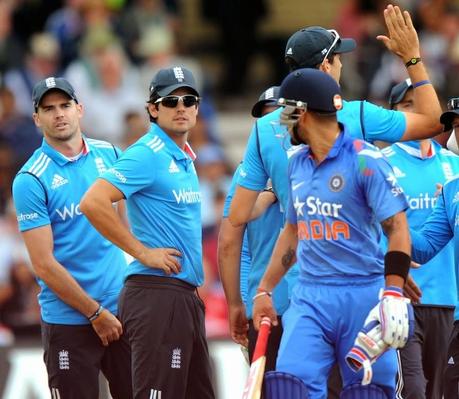 Just like the last 3 Tests, the one-dayers are proving to be no contest. The 3rd Test was still exciting as it turned the series around after India's victory at Lord's. The win was needed for England to prove they are still one of the best in Tests. Only in Tests. Tests are important for the British, so much that they play with the same attitude in One-Day.
India tour of England has hardly been exciting this time around. There is no competition. You get no brownie points for guessing who will win. If the Indian cricket team was left bare for the world to see, the same is happening with the English team. This is nothing new for them though. They give so much adulation to their Test batsmen that they make up for an unquestionable part of the one day team as well. Since the ousting of the flamboyant Kevin Pietersen, England haven't found a replacement for him yet. Or to say it right, they didn't even think that they need someone to replace him. Alex Hales has just now been given a chance but what can one man do? We have still got captain Alastair Cook in the team, who scored 19 off 33 in the 2nd one day and 44 off 65 in the 3rd. He not only bats at a meagre strike rate for a batsman, he is also the opener and the captain. We must not forget that it's his coming back into form that changed the course of the Test series.
In One-Day, it matters a great deal how you start the innings and also, the captain leads from the front and Alastair Cook definitely doesn't set a good example for his team to follow. If you start out slow, you lose a few wickets and thus the rest of the batsmen naturally feel under pressure. I'm sure Alastair Cook never tells his batsmen to go bang bang. I don't think England can ever dream of being a good one-day team with their old style strategies.
Let's compare England to other teams. Australia's highest ever total in One-Day is 434 vs South Africa and all of their top 12 totals are 350 or over. England's highest total is 391 vs Bangladesh followed by 363 vs Pakistan and their 10th highest total is 327. Compare this to India, who have scored over 400 four times and whose 10th highest total is 373. South Africa too has all of their top 12 totals over 350 and has scored 400 twice. I'm sure England doesn't realize you need massive totals to win one-day games in this day and age. Instead of bringing in swashbuckling batsmen, which are available in their Counties, England has a policy to play all-rounders and have depth in batting. So they have depth, this should enable them to reach 350, shouldn't it? What was Woakes doing coming in at 149/6? Couldn't he take England to a competitive total at least? Hasn't Alastair Cook got batsmen that he relies on all-rounders who would do both jobs? Hasn't England got better bowlers than Jordan, who was also made to play the last 3 Tests?
More..
England crushes India to level series 1-1
England bounced out at home by India
See-saw battle ends in Draw on dull pitch
No room for One-Day
Has IPL changed cricket for better or for worse?