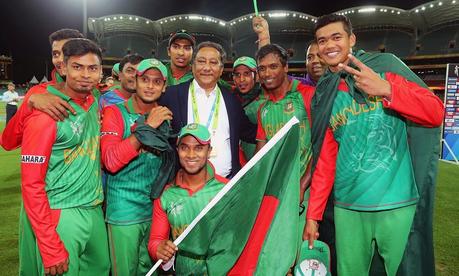 England vs Bangladesh: 33rd match, Pool A, ICC World Cup 2015 held at Adelaide Oval, Australia
No doubt England is going to receive bashing and criticism for their ousting from the World Cup, but it didn't look like they played terrible cricket. Bangladesh played well. For once, they looked like a proper International side. We didn't even see the wild celebrations they usually have after each victory. Regardless of the outcome of their Quarter-final clash, I would appreciate them for today instead of blaming England.
In addition, England has never been among the top teams in One-day. They might have played well in the tri-series before the tournament, but that's what England does, playing well for a series or two as far as one-days are concerned. Often, they play one-day because they have to and sometimes they get fired up against teams like Pakistan, India and Australia.
It must not be forgotten that Alastair Cook led the side until the end of 2014 and it's only been a couple months since Eoin Morgan has been appointed captain. I've liked his captaincy so far, but a lot goes into making a team a winning one than just good players or good captaincy. English cricket has always been chaotic, with the board acting like a dictator, having players from all around the world and many other factors.
What we see again and again, the English team disappointing us, is the result of poor management and nothing else. It no longer remains surprising for me. Only a few players in the team such as Morgan, Broad and Anderson are settled. What Kevin Pietersen's autobiography pointed makes a lot of sense. A lot of the players, especially the batsmen feel uncomfortable in the team. No wonder the bowlers perform more, whether with the bat or with the bowl. I doubt if anyone except for a select few feel secure about their place in the side. If the best players can be dropped, they know anyone can.
More..
Power to the players
What makes a team win?
The screwed up English cricket
Bangladesh seals emphatic win, England in dismay
Bengal Tigers Roar after 247 Days!