Ahhhhhhhhhh, and breathe!
I've been really good with my spending over the past few months, hardly buying any clothes etc so I decided to have a little treat. I had shed loads of Boots points to spend which was a bonus too!
First up, something I've wanted for AGES! I used to go into Boots and spritz this on myself and go 'someday' (it was always out of stock) and then when I went to the Trafford Centre recently it was there so...here comes Stila's Creme Bouquet Eau de Parfum: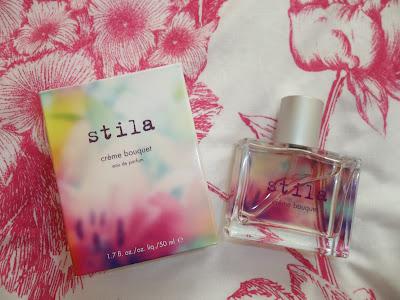 Right honestly, this might be the most heavenly perfume I've ever smelt. Stila describe it as a "delicate blend of Vanilla, Pink Lilac and Lily of the Valley" - now, I'm no perfume expert so I can't say I know what lilac and lily smell like but it is the most yummy, sugary smell. Plus, the bottle is gorgeous and for £29 I think it's very reasonable.
Okay, Superdrug stuff...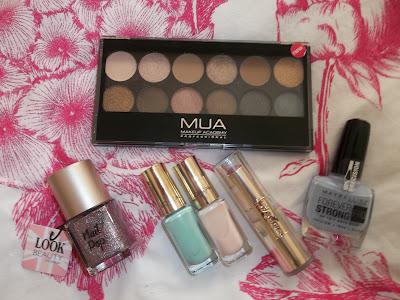 So we have the MUA Undressed palette - I won't swatch these today as I'll do a proper post about it another time, but everybody is saying it's the cheaper version of the Naked 2. I have the latter palette and can say honestly i've used probably 3 or 4 shades in total out of it and I actually prefer this one, I think i'll get more use out of it. Then there's some L'oreal nail enamels, the rouge caresse in Tempting Lilac, and a Maybelline enamel in Ceramic Blue. I'll do some individual posts about these another day. I can show you the LOOK beauty enamel in Rule Brittania though: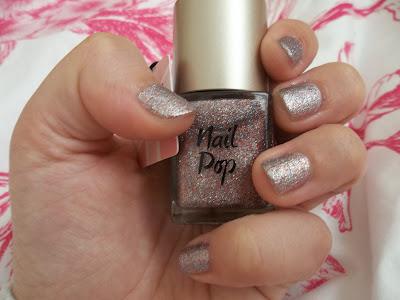 I love the color - it's like a tiny blend of silver, blue and red glitter particles. I'm not thrilled about the texture of it, feels a little grainy and scratchy on my nails but they haven't chipped so far.
Okay almost there! Some nice Soap and Glory 3 for 2's at Boots (thanks Advantage Card!). I got the Breakfast scrub, which is maple syrup scented (yum or sickly?!), with the Daily Smooth Body Butter and Mist you Madly body spray. I'm a big fan of their skin care - I use Peaches and Clean every day so I'll be interested to know what these are like. Then finally, I got two the Revlon Just Bitten Kissable Balm Stains, in Darling and Cherish, two light pinks. I really wanted the nude shade, I think it's called honey, but it was out of stock, I'll swatch these another day. Right okay I'll tell you why i'm not swatching...I have some kind of skin thing going on at the moment :( they're so itchy and dry and I made them bleed the other day so not only do they look gross but they also are really painful :(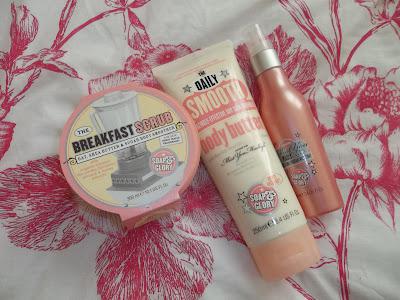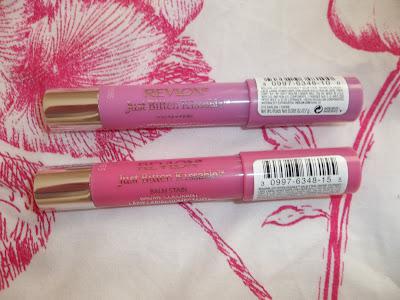 So I don't think i'll be buying anything for a while now! Anybody else got any of these products, and what do you think? I'd be interested to know your thoughts :) take care x