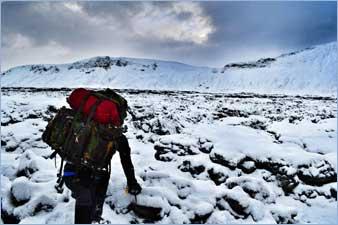 Tim Williamson – training for North Pole walk. Courtesy Chillisauce.co.uk
Record warm North Pole means no go for British ultra runner
It was this week that British ultra runner Tim Williamson was due to embark on what could have been a world record breaking expedition to and from the North Pole.
After receiving advice from an independent geographical society and several seasoned Arctic expedition campaigners, Tim, along with the support of his team at Chillisauce.co.uk have postponed his trip.
Tim will instead be spending the first four months of the year training from Keflavik, Iceland, where he will be conditioning himself to prolonged isolation, sustained cold and navigating in barren, featureless landscapes. After this, decisions and assessments will be made on future expeditions.
About his upcoming training Williamson said 'The purpose of this trip is to get a sense of the isolation and test some bits of kit. I'll be over the moon if I manage 1000 miles since I'm carrying everything in a backpack'.
It has been one of the warmest summers on record at the Pole and consequently the ice is in a very poor condition which would have rendered his attempt almost impossible from the start. Also it was felt that he needed more cold weather training before undertaking such a challenge to give himself the best possible chance of succeeding.
Director at Chillisauce.co.uk and head of communications team Adrian Simpson commented "We are disappointed that the expedition has not gone ahead, but Tim's safety and well-being has remained paramount in the planning and execution of this challenge. With Tim it's always going to be a question of 'when not if' he will triumph at the Pole."
There has been no date set for when the expedition will go ahead.
To keep up with Tim's training in Iceland on [email protected]_williamson.
The expedition will be documented on thenorthpoleexpedition.com
For more information on Tim Williamson visit: timwilliamson.org
About Chillisauce.co.uk:
Chillisauce.co.uk is an event agency, which sends over 80,000 people a year on events and experiences throughout the UK and Europe.