*This review was originally posted on Friday, September 30th, 2011*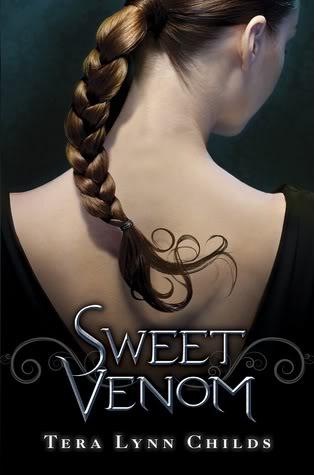 Sweet Venom
by Tera Lynn Childs
Publication Date: 
September 6th, 2011
Publisher: 
Katherine Tegan Books
Page Count:
352 pages
Format: 
Hardcover
Source:
Bought
Genre:
Mythology, urban fantasy
Ages:
12+
Goodreads
|
Amazon
|
Barnes and Noble
|
IndieBound
Grace just moved to San Francisco and is excited to start over at a new school. The change is full of fresh possibilities, but it's also a tiny bit scary. It gets scarier when a minotaur walks in the door. And even more shocking when a girl who looks just like her shows up to fight the monster.
Gretchen is tired of monsters pulling her out into the wee hours, especially on a school night, but what can she do? Sending the minotaur back to his bleak home is just another notch on her combat belt. She never expected to run into this girl who could be her double, though.
Greer has her life pretty well put together, thank you very much. But that all tilts sideways when two girls who look eerily like her appear on her doorstep and claim they're triplets, supernatural descendants of some hideous creature from Greek myth, destined to spend their lives hunting monsters.
These three teenage descendants of Medusa, the once-beautiful gorgon maligned by myth, must reunite and embrace their fates in this unique paranormal world where monsters lurk in plain sight.
Holy goalie! I haven't read any of Tera Lynn Childs' books yet, but now I want to go read them all! Sweet Venom was absolutely amazing! I had heard good things about it from fellow bloggers so when it came in the mail, I started it right away! I have to say, Sweet Venom greatly exceeded all my expectations, and my expectations were REALLY high!
I was a little worried when I heard it was going to be written from 3 different POVs, but Childs really pulled it off. First we're introduced to Gretchen who is the kick-ass monster killer triplet, next is Grace the sweet soft-spoken triplet, and finally about 2/3 of the way through the book we meet Greer, the stuck up snooty triplet. I absolutely loved Gretchen's powerful attitude and her confident nature, and I loved how she was so into monster hunting. She's basically the complete opposite from Grace who is really quiet and timid, and can barely stand up for herself. It was great to see how Grace changes after meeting Gretchen and learning about her heritage. She really seems to find herself. Gretchen also tends to soften around Grace which is nice. Greer is okay, we don't see much of her in this book so I'm hoping to learn more about her in the next one.
The writing is spectacular, I could always tell which POV I was reading from whether I read the name on the chapters or not. Childs really nailed each character's voice, and each one was different from the other. Their tone, wording, sentence structure, everything was different. I especially really liked Greer's voice, she had this formal rich thought process that demonstrated her personality really well. Her voice was completely different from the others.
There isn't a lot of romance, so if that's a deal breaker then you might not like this one. There are some love interests, but they're not super focused on. I can tell that later in the series that something is going to happen between the couples, but for now there's just some slight attraction. Usually lack of romance can be a deal breaker for me, but I didn't think it really fit in with the story, but there was just enough to keep me interested in what was going to happen next.
Overall I absolutely LOVED this book! I recommend it for anyone who likes books written from multiple perspectives, books about mythology, and books about kick-ass chicks! If you don't already have this one, go pick it up right now!