Well - I guess that counts as vanishing for a bit...between work and home, life is more than a little bit insane right now...and last week was rough.  This week is slightly better so that's something.
I could do without the month of July.  Ever.  It is so freaking hot here and I am very much not cut out for it.   As icing on the cake - there are so many wildfires right now that we are under this perpetual smoky haze.   I'm happy that the smoke isn't as bad at home - east of the city - but in Calgary it is definitely bad (though not as bad as my team mates in Edmonton have it with the falling ash).
1) The Boot.
Well - I'm finally in one of these.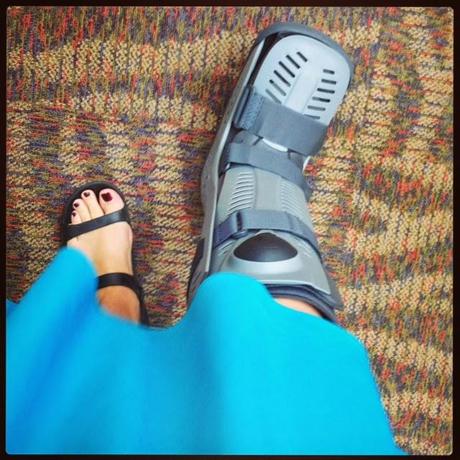 Dr. Dale figures that my whole shin bone is just far too tender and it needs the extra support/cushion this thing can provide.  I'm sick of it being broken so I was ready to be slapped in one.  A coworker equated it to a dog cone - to keep me from licking my wounds (er, I mean over extending myself physically)
It is surprisingly well ventilated for the +30C we have right now.  I pretty much just need to wear it when I am at work, out and about or whatever.  I have been taking it off at home for the most part just to be safe.  We have too many stairs and the risk of me ending up sprawled on the ground at the bottom of them is just too great.
I have been wearing it almost a week and I hate to be overly optimistic before having a follow up visit, but I do notice that my leg is no longer stinging.  THAT has to be good news on the break-front.  It might just be a case of "it feels so darn good when I stop" (wearing the thing).
On a side note - the brand name on this thing is Ossur...these are the same people who make boingy running feet.  So if this doesn't work out - maybe it will be easy to transfer me into a pair of those...since we already know my size...
2) The Hound
Cancerhound had an emergency visit to the vet last week when he had a lump on his side get infected.  They tested it and, sure enough, found more cancer cells.
It has been 4 years now since the first mast cell tumour was removed.  This one is significantly smaller but still a tumour. They want to bring in a specialist to perform surgery on him and we are not sure we can put our 9 year old dog through another year of cancer treatment.   Lots of decisions to be made...we're just not ready to make them quite yet.  
In the meantime - he gets to spend time stoned on painkillers until the worst of the wound is passed.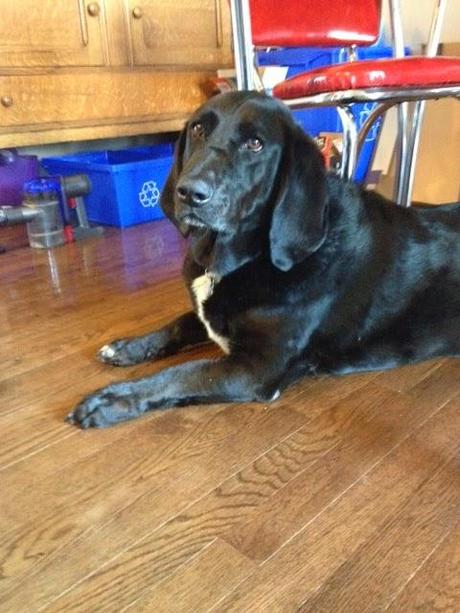 Poor sick Bubba
3) The Vacation
I am getting very excited about the trip to Vancouver in just over 2 weeks!  It won't be much of a vacation, per se, since I'll be working hard at my bridesmaidsly duties, but it will be nice to get away with hubby for a week and just enjoy one of my favorite cities for a bit.  And to see my best friend get married will be awesome!  Very much looking forward to it!