We all have our own unique taste in nightwear - whether that's cute PJs, a sexy nightdress or simply a comfortable t-shirt - but there are certain items that suit everyone! These nightwear 'classics' look great on all body shapes and sizes, and there's an occasion in every woman's life to wear them! Here are our picks of the three most must-have nightwear styles there are...
Black Satin Chemise

Just as the Little Black Dress rules the roost in the evening-wear part of your wardrobe, so too should the Little Black Nightdress hold the top spot in your nightwear drawer! We'd be hard-pressed to think of something more classic than a silky black chemise, and there's one out there for every taste and figure.

Whether you like your nightdresses short and sweet, or floor-sweepingly elegant, a black satin chemise is both sexy and elegant, perfect for those special occasions.
Our Top Pick:
We love this black silk nightdress by Eco Boudoir. The best bit? It's environmentally-friendly, being crafted from organic silk and cotton, so you don't have to feel guilty about treating yourself!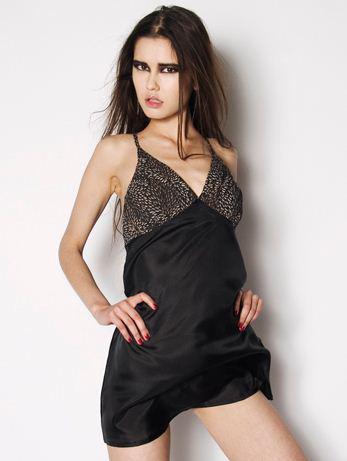 Beauty Silk Nightdress
Was £85, Now £55

Traditional Pyjamas

A set of traditional, long-sleeved, button-through pajamas is another classic and one we think should be in every woman's wardrobe, especially now the weather is starting to cool down!

A pair of traditional pajamas are perfect for keeping you warm on those cold winter nights, but if you opt for a natural fabric such as silk or cotton that lets your skin breathe, they'll even keep you cool on humid summer nights too!

Traditional pajamas are perfect not only as sleepwear but as nightwear too. You can team the pyjama bottoms with a cute camisole top to laze around the house on a relaxed Sunday morning, sipping cocoa at the breakfast bar in comfort and style!

Our Top Pick:
These striped pajamas from brand DKNY are the epitome of casual yet stylish design! With an on-trend, nautical-inspired pattern of navy and white stripes, trimmed with a contrasting pink, they're classic and fashion-forward as well as being super comfortable to sleep in!
What's more, the vertical stripe design is wonderfully slimming, making them the perfect choice for fuller-figured women who want to sleep in something that's flattering but comfortable, unlike restrictive shapewear.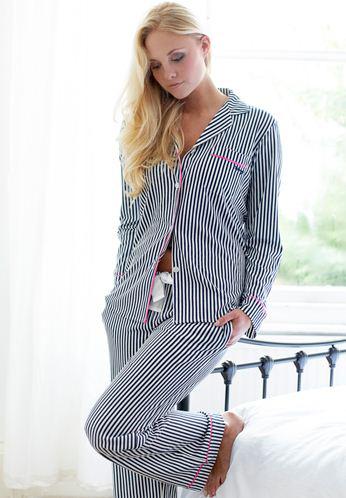 Navy Stripe Pyjamas

Was £65 - Now £40

Towelling Dressing Gown

We love the look of a stylish kimono dressing gown, but it's the toweling dressing gown that makes it onto our list of the top 3 nightwear must-haves thanks to its versatile style that's perfect all year round.

In the winter, don't you just hate stepping out of a nice warm shower or bath and into the freezing cold room outside? It's lovely being able to step straight into a dressing gown which not only keeps you much warmer than a simple towel, but when it's made of that same toweling fabric you can use it to dry off too!

In the summer, a short toweling dressing gown is still a great accessory to pop on over your nightdress or camisole set in the evening, when the temperatures start to drop, and is wonderfully soft and comfortable to lounge around in.

Our Top Pick:
A short, pure white dressing gown is an absolute classic and looks refined and stylish at any age. Plus, it adds a touch of luxury hotel chic to your day when you pop one on, just like you would at a high-class spa! Our favorite is this Moonriver terry robe with a shawl style collar to keep you nice and cosy over the colder months.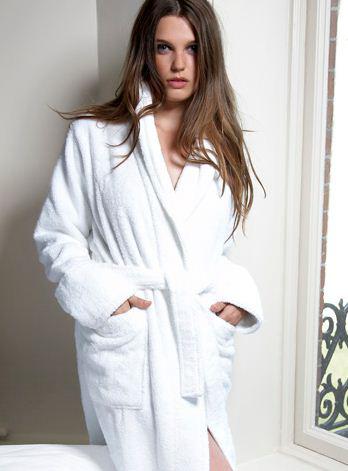 White Toweling Dressing Gown

£45