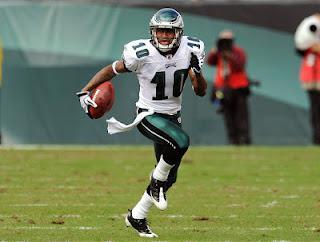 Photo: Associated Press - David Drapkin
- Troy Ballard 
The Philadelphia Eagles caved, and the team gave DeSean Jackson the kind of money he was dying to have -- $51 million over five-years.
As an Eagles fan, when news broke
via Adam Schefter
that Philadelphia had put that kind of money on the table for Jackson, I was immediately disgusted.
Not disgusted at the amount of money specifically, but that the Eagles had given into his request, no,
demand
, for more money.
After last season's antics with Jackson, he hardly deserved the kind of cash the Eagles dolled out. I don't care how fast he is -- Jackson didn't earn $51 million, essentially over $10 million a year, with how he has performed in Philadelphia.
Don't get me wrong -- I loved, beyond loved, Jackson in 2008 through 2010. The kid could flat out change a game, and he did it many a time. The most notable of course being his game winning punt return touchdown against the G-Men, which electrified Philly to the playoffs -- and naturally -- a one-and-done against the Pack-Attack.
Listen, when Jackson is at his best, he spreads the field with his speed, which opens up Philadelphia's offense. He makes Jeremy Maclin, Jason Avant, Brent Celek, Riley Cooper, and whatever other third-rate receivers Philly has, look much better than they are, as defenses are forced to focus on him. It's a perfect fit for the Eagles' offense.
Again, that's when Jackson is at his best.
The D-Jax that we watched last season was the one that dropped easy catches over the middle, jogged on running plays, didn't participate as a punt returner, refused to even attempt to block downfield, and was even benched for disobedient behavior by Andy Reid.
That last one, that's the best of all. The story behind Jackson being benched was based off the fact that he was late to a special teams meeting. As in, Jackson just didn't show up until it was almost over. So the man that has had his back from the moment he was drafted, Reid, decided to discipline him.
Yes, Andy 'I'm a flop at being a tough guy' Reid brought the hammer down. That may be even more surprising than Jackson's sudden and rapid drop in production on offense.
The Eagles 'impact' wide receiver made $600,000 last season, not a lot for an NFL wide receiver, but the last time I checked, it wasn't a meager salary. And apparently, six figures wasn't enough for D-Jax, and he claimed the reason his play suffered was he distracted by not having a contract extension.
Now he has his money -- $51 million to be exact. He was so happy, he
even guaranteed an Eagles Super Bowl victory in the next five-years
. Thanks, D-Jax. You must have not learned anything from Vince Young's comments last season. That's cool. We as Eagles fans will just deal with the media scrutiny after every single loss.
Even if Jackson didn't deserve it, the Eagles rewarded him with a massive contract. Congrats, Jackson. Congrats, Eagles. I hope it works out. But for some reason, I have that sick feeling in my stomach that it will be more of the same from Action Jackson in 2012.
Be sure to follow Beard And Stache on Twitter 
@BeardAndStache
, 
and also Adam 
@Adam_Parker43
, Like our Facebook page 
HERE
!