I'm studying for the Italian Wine Specialist certification through the North American Sommelier Association. Today, I brought a bottle to share with the class….
Abissi
Spumante Metodo Classico
Appinato nei fondali dell'area marina
Portofino 2010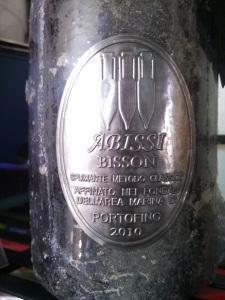 Typically Ligurian wine is lean, acidic, mineral, sapid — showing the vineyards' proximity to the sea (even when not aged under water). This wine is made from Bianchetta and Vermentino. In the glass it shows a pale golden-yellow with greenish reflections, and fine, moderately persistent bubbles. The aroma offers lemon peel, other citrus, and dried flower petals with a subtle hints of green apple. On the palate it is soft, leading into white peach followed by bracing acidity and a dry, mineral finish.
It deserves the DOC created for it.
The 2010 is sold out, but I've just ordered the 2011.