Background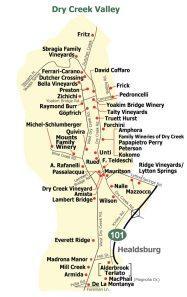 Located at the northern edge of Sonoma wine country, Dry Creek was among the first AVAs, approved in 1983. The area consists of a narrow valley approximately 2 miles wide and 16 miles long, a geography that makes Dry Creek an easy loop for a day trip from the Bay Area. Drive north from Healdsburg and drive along the east side of the valley on Dry Creek Road, then return south on West Dry Creek Road. If you're adventurous and fit, you can even bike Dry Creek Road.
Although cold Pacific waters lie just 20 miles west, mountainous terrain between the valley and coast results in a hot summer days, cooling considerably at night. It's an ideal place to grow Zinfandel, the region's trademark grape.
Originally planted in Dry Creek Valley by Italian immigrants in the mid­-19th century, many of the region's Zinfandel vineyards are among the oldest vineyards in the country, their distinctively gnarled, head­pruned vines dotting hillsides and valleys throughout the appellation. Many of these vineyards pre-date Prohibition and have survived not only that challenge but also the rise and fall of the infamous "white zin". "Zinfandel is integral to the past, present and future of Dry Creek Valley," says Winegrowers of Dry Creek Valley® president, Clay Fritz. "There are families in this valley who've been growing it for seven generations, who have Zinfandel flowing in their veins."
Dry Creek Valley is a patchwork quilt of diverse, well­drained soils and terrain ideal for an array of grape varieties. The Valley has one of the largest concentrations of bench lands in Sonoma County.
Deep, fertile Yolo soils are on alluvial fans and flood plains. Any crop can be grown on these soils. Good for white grapes.
Cortina soils are very gravelly, sandy loams on channeled stream bottoms.
The Manzanita series of gravelly silt loams is found on alluvial fans and river terraces. Constrained rooting depth makes it suited to limited production of white or red grapes.
The mid­terrace and hillside soils on the benches and hills, often a distinctive red color, are composed primarily of gravelly clay loam. Zinfandel thrives in the mid­terrace soils. Small crops of fine red grape varieties are grown on the hillsides.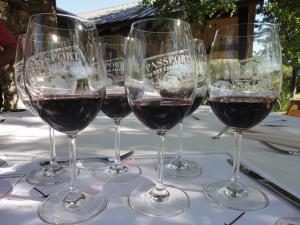 ©Ilona Koren-Deutsch
Stylistically, Dry Creek Valley Zinfandel hints at the characteristics of cool climate reds, with aromas of red fruits mixed with black pepper and earth. Depending on the winemaker, the wines can be lush and fruit driven, dark and intense, or anything in between. In general, Dry Creek Valley Zinfandels balance ripe, sensual fruit flavors with moderate sugar levels, resulting in elegant wines great for pairing with food or enjoying alone.
Rockpile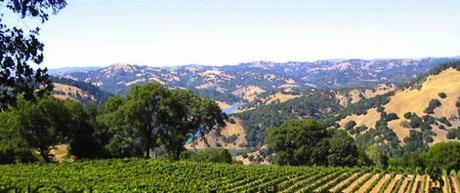 Photo courtesy Rockpile Growers Association
Rockpile, in the mountainous northwest corner and overlapping Dry Creek Valley, has unique terroir. This is one of the smallest and most recent AVAs in the country, approved in 2002. Planted acres comprise less than 160 acres, which make comparisons of several winemaking styles from the same vineyard especially revealing.
Rockpile is unique in that there are no wineries within the borders of the AVA. However, winemakers have long considered this region a hidden gem and compete to secure grapes from fewer than a dozen Rockpile growers each year. Because the temperature in Rockpile is moderate throughout the growing season, harvest of several grape varieties can be pushed until late fall, resulting in intense flavor profiles. Rockpile wines are well worth seeking out; a number of wineries produce them including:
Bella
Bruliam Wines
Carol Shelton
Mauritson Wines
Robert Biale Vineyards
Rock Wall Wines
Seghesio Family Vineyards
Where to go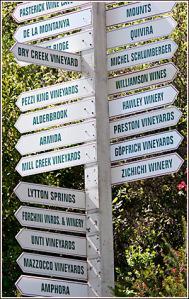 Visiting Dry Creek Valley wineries is a friendly experience. Here you'll find winemakers that enjoy talking with you, cellars and vineyards to tour, and beautiful gardens in which to sip your wine. Because each of these wineries has outdoor space in which to play, children are welcome to visit.
The Winegrowers of Dry Creek Valley have an interactive map to help you plan your visit. You can select an amenity or wine, and the map will tell you which wineries to visit.
Here's a selection of wineries, that I enjoyed on my first trip there. When I go back, I'll visit more!
Dutcher Crossing Winery
8533 Dry Creek Road
Geyserville, CA 95441
Phone: 866-431-2711
http://www.dutchercrossingwinery.com/
Proprietor Debra Mathy can often be found welcoming guests with Dutchess, her Golden Lab, sidekick, and the winery's official greeter. Winemaker Kerry Damskey's small-lot, select vineyard approach to winemaking can be enjoyed in the tasting room. You can enjoy the view from inside the tasting room, but you are welcome to bring a picnic to enjoy in the garden with your wine.
Fritz Underground Winery
24691 Dutcher Creek Road
Cloverdale, California 95425
Phone: 800-418-9463
Email: [email protected]
http://www.fritzwinery.com/
Fritz is architecturally unique. Built into the side of a hill atop the northernmost region of the famed Dry Creek Valley, the Fritz Winery operates with a green sensibility. Naturally cool temperatures, ideal for wine making and cellaring, are maintained without any use of expensive or carbon-heavy devices common to most modern wine production. In addition, they use a three-tiered structure to further cut down on energy usage. By harnessing gravity to move juice from the crush pad down to the tanks and barrels, they not only save energy by forgoing pumps, they also save juice from the detrimental effects of excessive pulsation and buffeting.
Mauritson
2859 Dry Creek Road
Healdsburg, CA 95448
Phone: (707) 431-0804
Fax: (707) 433-5001
E-mail: [email protected]
http://www.mauritsonwines.com/
The Mauritson family has been making wine in Dry Creek Valley for six generations over 140 years. The family was growing 4,000 acres in the early 1960s when all but 640 acres were taken by the Army Corps of Engineers to develop Lake Sonoma.
On any given day and with no advance reservation, you can take self-guided vineyard tours. Along the way, learn what goes on in a vineyard during the year, sustainable farming practices and other interesting tidbits of information. Of course, after the tour you can taste their wines in their comfortable tasting room, filled with photographs and history.
Quivira Vineyards and Winery
4900 West Dry Creek Road
Healdsburg, CA 95448
Local: 707.431.8333
Toll Free: 800.292.8339
Fax: 707.431.1664
http://www.quivirawine.com/
When you visit Quivira's estate, you will enjoy an insider's look at their wines, their vineyards, and their commitment to Biodynamic farming. Their organic and Biodynamic winery includes colorful gardens, entertaining animals, soothing waterways and, of course, abundant vineyards, offering breathtaking views of the thriving wine region.
In Spring and Summer, they offer a 90-minute tour of the Estate, discussing topics varying from their compost program to the Grenache varietal and the importance of vine trellis systems. Their Biodynamic agricultural practices are evident throughout their property but no more so than in their one-acre garden, which is home to more than 50 chickens, 120 raised vegetable beds, and one of their Biodynamic beehives. In Autumn and Winter, they invite guests into their cellar for an in-depth discussion on winemaking practices. After each tour, guests are invited to a private, sit-down tasting featuring their small-lot wines.
thumbprint cellars
102 Matheson St.
Healdsburg, CA 95448
Phone: 707.433.2393
Fax: 707.433.2325
Email: [email protected]
http://www.thumbprintcellars.com/
In 2004, thumbprint opened their tasting room and wine bar which they deemed a tasting "lounge", the first of its kind in Healdsburg. They designed the space to be comfortable and elegant, yet approachable and friendly. thumbprint cellars' unique tasting room pours their artisan wines, which are recognized across the country. thumbprint supports numerous non-profit organizations and local events, through financial contributions, services and in-kind donations.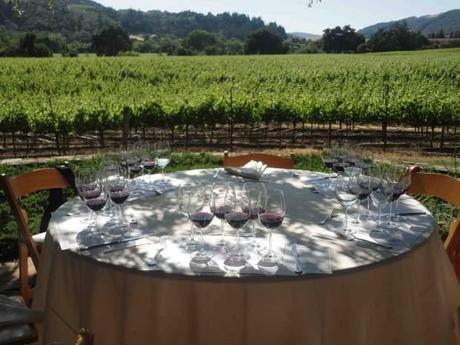 Winemakers Dinner at the home of Dutcher Crossing's proprietor, Debra Mathy
photo ©Ilona Koren-Deutsch
This excursion to Dry Creek Valley was organized by McCue Marketing Communications, LLC for the Winegrowers of Dry Creek Valley®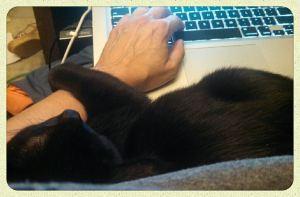 Typing "help" provided by Alix.