WBC 11
Two years ago, I attended WBC 11 in Charlottesville, VA. It was an eye-opening experience, in more ways than one. A number of bloggers had very critical things to say about the conference, at least an equal number had nothing but praise. I chose not to enter into that fray, just writing, on the way home, the following post (for a different blog) about the conference:
Notes from 1D

A short post from the plane, finally on my way home after adventures in Charlottesville and Richmond and Minneapolis airports.

I went to the Wine Bloggers Conference figuring I'd drink a lot of wine, meet interesting people, and have fun. I did all that, but I also ended up learning more than I expected to. Some bullet points:

There is excellent wine being made in Virginia. I'm especially fond of the Cabernet Franc, with the Viognier running a close second.
Humans can only perceive four aromas at any one time. I'm now going to read with some skepticism any winery information sheet or review that claims a long list of aromas. I'm also going to do some research on the science of taste.
I need more sleep than I did when I was younger!
If you see Jancis Robinson get onto a bus, join her. You'll be taken to terrific wineries.
Speed tasting is kind of like work! Especially speed tasting of red wine when the heat index is over 100 degrees Farenheit and towards the end of the day.

I've also come away with inspiration for my writing. Stay tuned for that….
I didn't attend WBC 12 in Oregon last year because I had just started a new day job.
WBC 13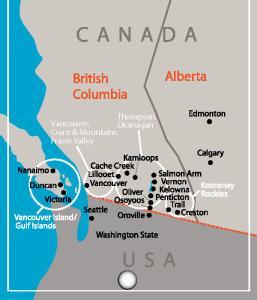 This summer I'm planning to return to the conference. My goals towards wine and writing are different than they were two years ago. I've started my own blog (this one, obviously), and I'm studying for formal qualifications: the WSET (Wine and Spirits Education Trust) Intermediate Exam and the Italian Wine Specialist Exam through the North American Sommelier Association.
Also, unrelated to wine, I have a soft spot for British Columbia, although I've spent little time there outside Vancouver.
As the conference approaches, I'll have more to write about the topic.
For now, I'd like to give a nod to MyWineConcierge.com and TheWinedUp.Net who are doing something remarkable. MyWineConcierge.com is sponsoring a contest to cover the cost of the conference hotel, and TheWinedUp.Net is donating $5 to the WBC Scholarship for each entry. So do these folks a favor and go check out their websites!