Not too much time this morning because I am under orders to drive the 'Memsahib' into Sherborne for an appointment with her 'most significant other' - her hairdresser - yeeeeees, quite!  Consequently I will cheat a bit and simply regurgitate The Telegraph story concerning L/Cpl Joshua Leakey of 1 Para who has been awarded the Victoria Cross for his courage in saving the life of an American marine officer and then leading the fight-back by a joint Anglo-American patrol ambushed in Afghanistan: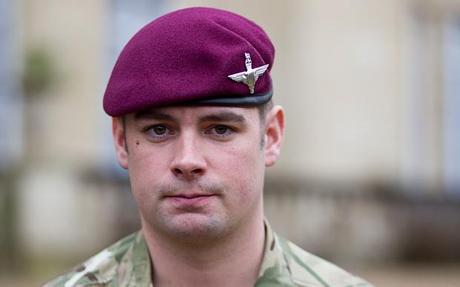 "If you spent your whole life wondering what was going to happen, what could happen to you, then you wouldn't get out of bed in the morning, you wouldn't get anything done."  [Cpl.Leakey's words] 
It was supposed to be a routine mission like countless others during the long campaign in Afghanistan.
A joint force of British soldiers and United States Marines would helicopter into an area, flush out any fighters that might be there and hold meetings with the village elders.
Yet on what should have been an ordinary patrol, L/Cpl Joshua Leakey's actions were so extraordinary that he has now won Britain's highest award for battlefield gallantry.
The 27-year-old serving with 1st Bn the Parachute Regiment single-handedly turned the tide of a Taliban attack and prevented considerable loss of life by repeatedly running through heavy fire to man machine guns.
The 27-year-old was among around 20 British troops and a small force of marines ferried by two Chinook helicopters to a village south of Nowzad in Helmand, on August 22, 2013.
L/Cpl Leakey's helicopter had landed near a hill outside the village, to provide protection for troops from the other helicopter who would move into the settlement.
Soon after dismounting from their helicopter the troops split up and a command group came under heavy and accurate machine gun and rocket-propelled grenade fire, pinning them down on an exposed slope. The group spent an hour trying to get out of the deadly fire, but a US marine officer was hit in the shoulder and their communications were put out of action.
L/Cpl Leakey and around six British soldiers were on the other side of the hill when they heard the gunfire and heard over the radio that someone had been shot.
The citation for his medal reads: "L/Cpl Leakey, positioned on the lee of the hill, realising the seriousness of the situation and with complete disregard for his own safety, dashed across a large area of barren hillside which was now being raked with machine gun fire."
"As he crested the hill, the full severity of the situation became apparent: approximately twenty enemy had surrounded two friendly machine gun teams and a mortar section" meaning they could not offer covering fire.
First he moved down the hill and gave first aid to the wounded American.
But realising the Taliban still had the upper hand, he set off back up the hill to get one of the machine guns back into action.
When he reached the machine gun, the incoming Taliban fire was so heavy and accurate that bullets were hitting the frame. Undeterred, he picked it up and moved it to a better position to open fire.
L/Cpl Leakey told The Telegraph that he had been "reasonably aware" of the bullets landing all around him, "but you focus on the job at hand".
He said: "If you spent your whole life wondering what was going to happen, what could happen to you, then you wouldn't get out of bed in the morning, you wouldn't get anything done."
As he fired back at the fighters he could see them around 300 to 400 yards away in a half built compound.
His actions spurred on those around him to fight back, but not content, he decided that a second machine gun needed to be set up on the crest of the hill.
His citation reads: "Weighed down by over 60lbs of equipment, he ran to the bottom of the hill, picked up the second machine gun and climbed back up the hill again: a round trip of more than 200m on steep terrain. Drawing the majority of the enemy fire, with rounds splashing around him, L/Cpl Leakey overcame his fatigue to re site the gun and return fire."
His actions were a turning point in the day and the joint force began to fight back ferociously.
His citation says: "Displaying gritty leadership well above that expected of his rank, L/Cpl Leakey's actions single-handedly regained the initiative and prevented considerable loss of life, allowing a wounded US Marine officer to be evacuated. For this act of valour, L/Cpl Leakey is highly deserving of significant national recognition."
L/Cpl Leakey, from Hampshire, said that he was "deeply honoured" but insisted that the award was for everyone in his regiment and battalion.
"It was a memorable patrol in that a lot happened, but that's what it was, another patrol."
He said: "Everything there written [in the citation] says me, me, me. But I definitely feel it's a team thing. There were blokes who were with me there on the ground right in amongst it and if it was up to me they would be sat here as well."
He denied he had ever been scared as bullets ricocheted around him.
"You don't really think what could happen to yourself, you think 'how is what I'm doing now going to improve the situation?'
"It's part of the very nature of being in the Army, and especially the Parachute Regiment, that we have to adapt to situations you don't expect to happen.
Pointing to the badge on his maroon Parachute Regiment beret, he added: "The only thing I was really scared of was letting this down. That to me, that's why I joined, that's why I joined the Army to be a paratrooper."
The Victoria Cross is not the first in L/Cpl Leakey's family. His second cousin, twice removed, won a posthumous VC while serving with the King's African Rifles in Abyssinia.
Sgt Nigel Gray Leakey leapt on an Italian tank, wrenched open the turret and shot all the crew during a battle in May 1941. He was shot dead as he tried the same on another tank.
L/Cpl Leakey, whose battalion supports special forces operations, said he now hoped he could continue his Army career in peace. He said: "My big hope is that I can just go back on Monday morning, back to my battalion and say to my platoon 'Sorry I was away for the last two weeks, what's next?' I'm not going to let this become who I am, because it's not who I am. I am just me."
 http://www.telegraph.co.uk/news/uknews/defence/11435200/Just-another-patrol-for-Para-who-won-VC.html