This sloppy, wild, colorful, magical thing that has no beginning, and has no end… this right here, I think it's us. – Kevin Pearson
Sometimes TV show titles are obvious.  They're named for a person, a specific place, a feeling they convey, or an overarching theme.  Sometimes they're a little more subtle, and take some time to really get to the root of.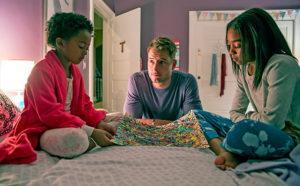 This week on This is Us, the title became ingrained in every single person who watched the spectacular ending monolog given by Kevin Pearson (Justin Hartley).  Comparing life to a never-ending canvas on which each person leaves their own color mark is diametrically both captivating complex and beautifully simple.  Whew, did I get a little deep on you there?  This show just does things to me.
It's clear from the writing on the show that creator Dan Fogelman exudes passion for this story. (5 episodes in and I really just want to be his BFF, okay?)  And it's equally as clear from the acting and directing that everyone working with him shares that passion.  We learned this week that passion seeps through the seemingly simple title of This is Us.  While it obviously refers to the Pearson family (parents Jack and Rebecca in flashbacks and grown children Kevin, Kate and Randall in present day), the heart of the story goes deeper than that, to relate to people on a personal level right where they are, wherever that may be.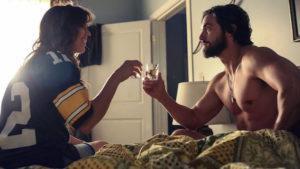 This week's episode once again pulls heart strings in all the right ways.  Jack defending his wife's honor was a particularly exciting scene and Milo Ventimiglia gave me major Jess Mariano flashbacks (or maybe it was just that the Netflix Gilmore Girls trailer dropped the same day… whatever the case, I loved seeing him stand up and fight!)  Clueless Kevin babysitting his nieces was endearing and even Kate opening up to Toby about her father had just the right bittersweet feel to it.
And speaking of Jack Pearson– ever since the twist at the end of episode two, fans have been eagerly awaiting any knowledge of where he is in the present day story.  I don't know about any of you, but as sad I was to learn his fate, I almost preferred it to him being alive with Rebecca and Miguel together.  There's still a ton we don't know about the lives of the Pearson family, but I for one, am fully trusting in the team behind This is Us to show us what we need to know at the right time.  This is Us airs Tuesdays at 9/8c on NBC.  And you can find the video of Kevin's whole speech below.  It's worth a watch, or two… or ten.
Image Credit: NBC
Video Credit: NBC