When there is a show you like you will either laugh at what is going on, cry when the characters are crying or even start throwing a remote when they are mad.  Well, it's time to grab your box of tissues because we are going through the top heartbreaking moments that Gilmore Girls has given us.  Make sure to leave a comment below or tweet us @FrontRowChat if we missed a heartbreaking moment you remember.
Hannah- Rory breaking down at the dance-a-thon after her and Dean breaking up. (S3E7)
Even as not a Dean fan, this breakup broke my heart for Rory. Especially as she broke down in Lorelai's arms.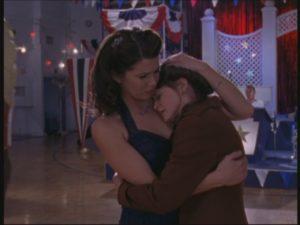 Lisa- Lorelai sees her dad in the hospital bed after he had collapsed at a Christmas Party (S1E10)
Sairah- Lorelai's reaction to Luke breaking up with her (S5E14)
Lorelai took this so hard. Caring for someone, other than Rory, so deeply that is consumed her and made her feel so broken that she couldn't even get out of bed was so new to her. She was not prepared for that much heartbreak. It was very emotionally to watch.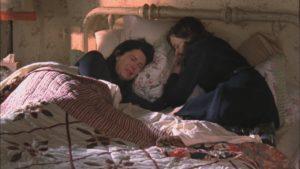 Cassie- Emily sees where Lorelai moved when she left home (S1E19)
Gilmore Girls: A Year in the Life premieres on Netflix on Nov 25.
Image credit: The WB