 This dress has been held hostage by the Canada Post (our postal service in Canada) because of the strike they were having and yesterday, after the strike had ended and we started getting mail again, I found this package waiting for me in my mail box. I ripped it open and I swear I almost cried. The wonderful and incomparable Judith from
Rustycuts
makes gorgeous and unique clothes from found vintage fabrics and then combines them with new material to create chic and perfectly darling dresses. I was lucky enough to get this dress and I cannot express how much I adore it. Seeing as Leia was also held hostage I thought it was a rather kismit thing to happen to the dress and makes it all the more special.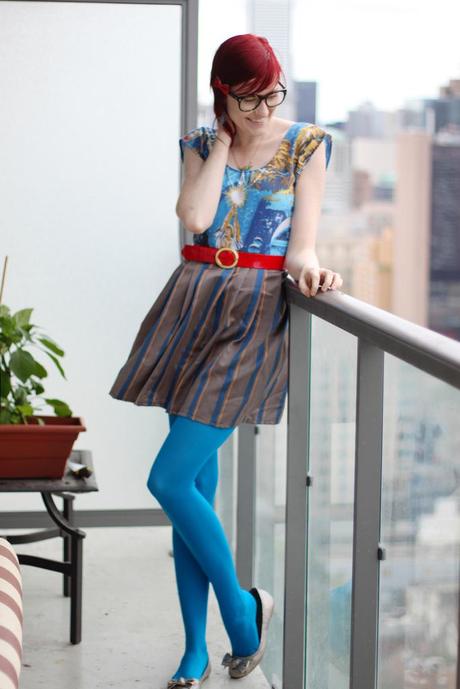 I really cannot speak more highly of this dress. I got to choose the design of the dress and I loved the one I chose. The back is absolutely amazing and so open, perfect for a warm summer night drinking beer at the Rivoli on Queen street, watching people go by. The other thing that is so unique about the dress is the little winged sleeves which create gorgeous lines and frame your shoulders. I really love strong line and sharp edges and this dress marries that with the soft and delicate skirt which simply floats around you in a drop waist. So it's a great dress to twirl around and play in.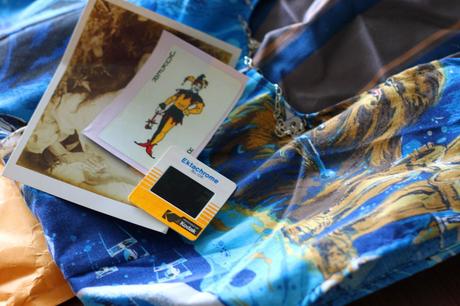 The wonderful  Judith also included this little treasures as a surprise inside my package. They are just little pieces of ephemera but little did she know I am obsessed with ephemera they were simply the icing on top of this amazing cake.
Star Wars has always really meant something special to me. I guess growing up with two brothers we watched a lot of action movies and we were definitely prone to recreating scenes from them as well (which was always dangerous and usually ended up with someone getting injured - but it was a lot of fun). When the movies got re-released in the cinema my dad took me and my brothers to see them. I don't remember dad taking us to the movies much since he worked really hard, long hours but I remember him taking us to this little cinema in Barrie during Christmas break to watch them. It was one of those old cinemas with one or two screens and the seats were made of wood with worn out red velvet seat cover. The popcorn was popping in the tiny concessions stand outside and it had that smell that real popcorn has, not the fake stuff from those giant mega theaters. We sat there, popcorn in hand, over joyed to be seeing our favorite movie on the big screen. Dad bought us the three VHS pack of movies that Christmas and we spent much of the holidays in front of the TV watching them over and over again. I think I even spent my birthday watching Returning of the Jedi as a storm blustered outside. I always just wanted to hug Vader - he was my favorite character. There is definitely a home video somewhere that my and my brothers made of us all dancing and running around to the music from the movie, jumping on the sofas pretending to be Vader and Luke flying around with the force. I smile every time I see it. Kids are so funny. Imagination really is such a wonderful thing.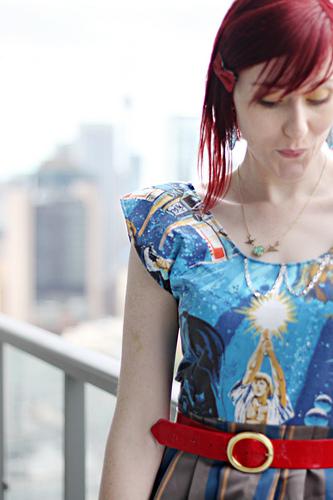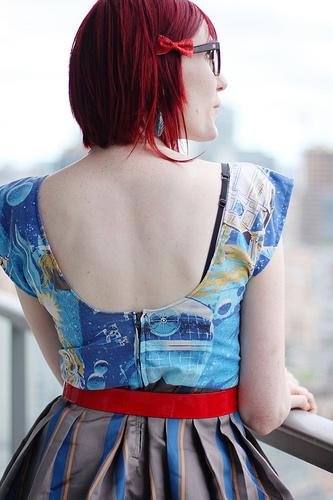 So, that being said, I smiled a bunch when I got this dress. It is actually made out of an old star wars bed sheet. I wish I had had bed sheets like this as a kid. But I probably would have ruined them with paint (I painted in bed a lot....yeah I don't know why either...) I'm such a fan of pre-loved clothes, and I know that who ever owned this definitely shared my love for Star Wars and I'm happy to continue to spread that love and fandom even after we grow up and out of those beautiful Star Wars sheets. But I will never lose that wonderful sense of adventure, imagination and excitement that that movie filled me with when I was a kid. I'm not gonna lie, I may have picked up my
light saber like stick
and run around the house playing Vader vs. Luke when I first put it on....good times.