I want it clearly understood that this blog is not 'clownist'.  Yesterday, in a minor lapse of concentration, I juxtaposed photos of clowns alongside those of politicians.  This, of course, was a gross insult to clowns everywhere, a body of men (and now women, I gather) I have loved since I saw my first live circus and one of them invited me to attempt to stand on the back of a trotting horse - I lasted all of 3.7 seconds, as I recall.
Thus, in a spirit of reconciliation, I wish to warn my clown friends that they are now facing severe competition from a new body of what can only be called post-modernist 'klowns'!  (I am reliably informed that they deliberately spell their group name with a 'k' to show how, er, really, really post-modernist they are.  Yeeeeeees, quite!  Also, they have broken with the traditional white face-paint and instead cover all their exposed body parts in green paint.  Yesterday they held a press conference and I was prepared to undertake some serious investigative reporting in order to find out what colour their hidden, er, 'bits' are coloured but when I saw their leader I confess to falling into a sudden attack of 'l(i)mf' - lack of (im)moral fibre.  Well, can you blame me?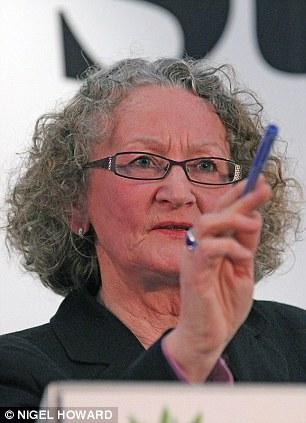 This is their 'Klown-in-Chief' whom Quentin Letts in The Mail describes thus:
The meeting was called to order by a didactic old buzzard who was soon bossing us about like Stalin's granny. This was Jenny Jones, aka Lady Jones of Moulsecoomb, a member of both the Lords and London Assembly. Yet the Greens present themselves as anti-Establishment.
Some 5ft high, with a head of grey curls and a voice sharp as a kebab stick, Lady Jones told us there would be short speeches and as many questions as we wished.
By now you will have realised that I am referring to the 'Greenie Groupuscles' whose leader, Ms. Natalie Bennett, launched their election campaign yesterday with a radio interview that was the equivalent of one those poor mad mums who from time to time gather all their little children into their arms and then jump off a cliff!  I suppose the surviving 'Greenie Groupuscles' hoped that this press conference would hide the headlines and restore the 'Klowns' to their proper place in society as the guardians of all things Green.  Big fail!  Well, it was according to QuentinLetts: 
One of the telly chaps asked if Natalie had let the party down with her inept performance. Lady Jones barged into proceedings and shouted 'she's not going to answer that!' 
To be fair to the possum, Natalie was perfectly happy to respond. She stood to attention like a koala about to sing Advance Australia Fair and very decently admitted she had boobed bigtime with her LBC interview. The words 'you can shoot me now' were not quite uttered.
Michael Deacon of The Telegraph captured the sublime comedy of it all, thus:
A man from Sky News had heard Ms Bennett's LBC interview. "It was fairly excruciating," he told her. Ms Bennett nodded apologetically. "Would you agree," he asked, "that you're letting your party down with performances like that?"
Baroness Jones shot from her seat. 
"She's not going to answer that!" she squeaked. 
Ms Bennett, still seated, looked up at her. "Yes I will," she said politely. 
"No!" squeaked Baroness Jones. 
"I will. I…" 
"No! No!" 
Ms Bennett remained meekly in her seat. Instead Ms Lucas stood up and talked at length about the environment. Journalists stared, amazed. 
I do urge all you clown-lovers to read both articles, they will have you weeping, but whether with laughter or despair I cannot say.  Still, it's a bad day when no-one gets a pail of water down their trousers so at least UKIP can enjoy a (brief) laugh because they look positively statesman-like in comparison to the 'Klowns'.
To end on a serious note, the entire Green spectacle tells us all that politics is a serious business and, despise them as we do, it is best left to the professionals.