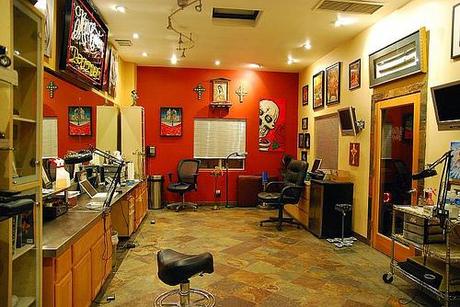 Looking critically at the shop is as important as choosing your artist. Make sure the place is very clean, make sure the artist uses disposable, single-use needles (that are not re-used after one client), and uses an autoclave for all other equipment. Don't be afraid to ask them, either. A legitimate artist will be glad to show you.
What does the shop look like? What is its ambiance? Does it look like a barber shop, a hair salon, dental office or an art gallery? If you are a nonsmoker, will cigarette smoke bother you? Look for used ashtrays as signs. Do the work areas offer you any privacy? Do they use shower curtains, private booths or shoulder-high room dividers?
Try to go and visit and then come back another day. Don't feel pressured into having to get one right then and there. Try and talk to some people that have experience with the artist (and not the groupies that you'll find hanging around the shop). You should feel comfortable with the artist and you should like him/her. If you don't, then don't get a tattoo.
Make sure the artist is willing to listen to you and respects what you want. Don't go to an artist that has an agenda of what he/she wants to do. The artist may make suggestions, but the final word is always yours.
Finally, make sure you take their business card with you. If the artist you talk to does not have his/her own card, jot down the name on the back, and perhaps some notes to yourself about the shop and the artist.