I have recently been introduced to
 Thieves Oil
 as a way to kill germs.  Thieves oil was apparently created by some thieves who covered themselves in various essential oils while robbing people who were inflicted with the plague.  The thieves soon realized that they became immune to the plague.  This unique blend has since been studied and found to be a great support on the immune system.  The combination of these oils have high anti-bacterial, anti-viral and anti-septic properties.   Some studies suggest it kills up to 99.7% of bacteria.
I have been using this oil in the girl's vaporizer and have made it as a room spray. I brought it to work a month ago while fighting a cold and everyone commented on the great smell as they walked by my office.  It really is very refreshing.
There are many recipes for this oil and it can be purchased as a pre-made oil but I decided to make my own.  I have been loving it and spray it almost daily in the house.  You can purchase these oils in most health food stores, I like to buy my essential oils from Natural Directions Aromatics which has a Canadian and US online store.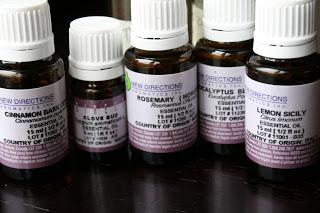 Ingredients
To create the thieves oil simply combine
100 drops cloves
80 drops lemon oil
50 drops cinnamon oil
45 drops eucalyptus oil
25 drops rosemary oil
Directions
For a spray I combined about 1/2 a teaspoons of combined oil (thieves oil) to 1-2 ounces of water
In the vapourizer I just put a dab of straight thieves oil into the inhalant compartment of the vapourizer