Looking for a tasty vegan "Burger" recipe?  This one is our favorite.  It is easy, allergy friendly and delicious. We have made them several times and they hold together so well. We hope you enjoy them as much as we do.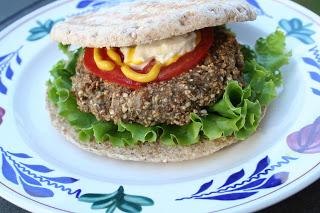 Ingredients (makes 6-8 patties)
2/3 cup uncooked quinoa (cooked with 1 + 1/3 cup of water)

1 cup of pecans or 1 cup pumpkin seeds

1/4 cup hemp hearts (or other seeds/nuts)

2 cups rolled oats

1 teaspoon onion powder

1 teaspoon garlic powder

1 teaspoon sea salt

2 tablespoons parsely

2 cloves minced garlic

2 flax eggs (1 1/2 tablespoons flax set with 6 tablespoons water for 2 minutes)

1 tablespoon tamari or soy sauce 

1/2 finely diced onion 

1 teaspoon dijon mustard

Pepper to taste

1-2 tablespoons water if needed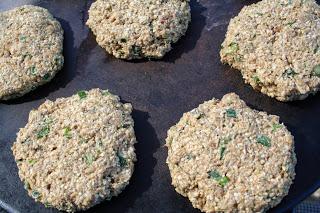 Directions
Preheat oven to 425 F
Cook quinoa.
Add nuts or seeds to a food processor and grind to very small pieces.  
Place all ingredients into a large bowl.  
Wet hands slightly and form into patties.
Bake for 20 minutes flipping once in between.