Perhaps this is more of a winter meal but today is a rainy day and I felt like something hearty and warm.  This is a simple easy recipe and can feed many.  I soaked my pinto beans from dry beans but you can use canned ones as well.  Depending on how much of a "sauce" you want with your beans you can always adjust the amount of water.  I made this in a crock pot but it can also be done on the stove or in the oven.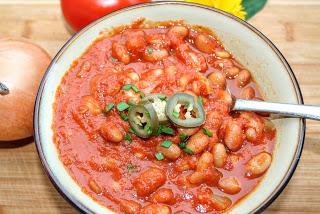 Ingredients
6 cups cooked pinto beans (3 cans of pinto beans)
2 cups pureed tomato
1 cup water (adjust depending on desired amout of sauce)
2 diced carrots cooked until soft
1 diced onion
1/2 tablespoon olive oil
2 cloves garlic
1 cup water
2 bay leaves
1 teaspoons smoked paprika
1 teaspoon coriander
1/4 teaspoon chipotle or to taste
1 teaspoon thyme
1 tablespoon maple syrup (optional)
sea salt and pepper to taste
Directions
In a frying pan heat and add diced onion.  Cook onion until very soft about 5-10 minutes.  Add garlic and cook another 2 minutes.
Add diced carrot into a pan with water and cook until soft.
Puree the carrots with the water.
Add all ingredients into a crock pot and cook on low for 4-6 hours.
Remove bay leafs.  Serve over brown rice if desired.