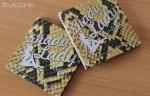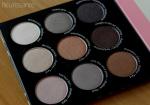 Hello lovelies,
how often do you buy make-up based on the packaging?
I have to admit that the packaging is important to me and it certainly influences my impulse purchases. One of such was theBalm Shady Lady Special Edition palette. As a reptile lover, I couldn't resist the snakeskin print packaging. The palette is available at feelunique.com for GBP26.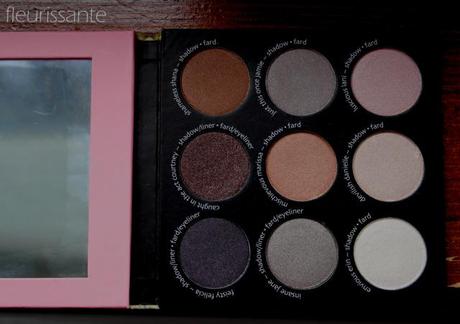 This palette comes in a cardboard packaging with magnetic closure and a mirror on the flip top. It contains 9 pretty big eyeshadows, each containing 2,2 grams of product. All the eyeshadows belong to the neutral color family and even though it contains cool toned eyeshadows, the overall tone of the palette leans to the warm side.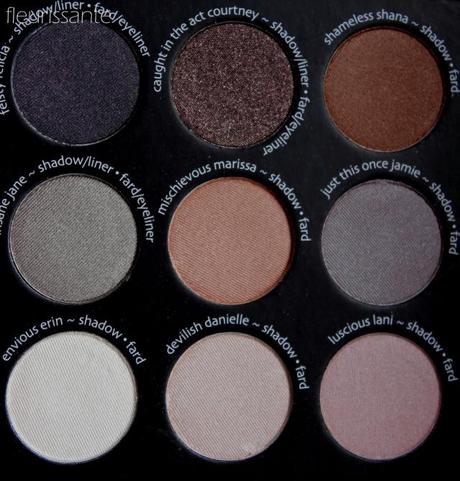 The eyeshadows are dry and very powdery – even a light touch of brush kicks up a lot of powder. I had a bit of fallout during the application. The lighter shades are very pigmented, but two of the darkest shades leave a lot to be desired. All the shades are shimmery and some contain microglitter. The swatches are made on bare skin without the primer.

The eyeshadows wear well even without a primer (I have oily lids) – up to six hours. With primer, they stay on until you decide to remove them.
Three shades are eyeshadow/eyeliner shades, while the rest is just the eyeshadow. I didn't notice any difference in formula.
Let's go through all the eyeshadows: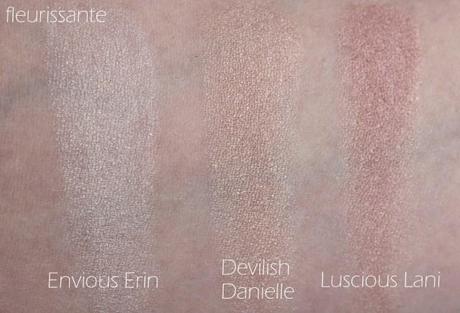 Envious Erin is a pigmented pale shimmery ivory.
Devilish Danielle is a pigmented shimmery champagne.
Luscious Lani is a pigmented shimmery pink which looks very peachy on the skin.
—-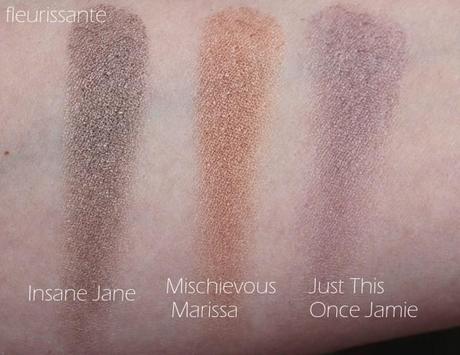 Insane Jane is a shimmery medium dark taupe eyeshadow/eyeliner (tbh, it is a bit light for an eyeliner). It is one of my favorite shade – both color-wise and formula-wise. I'm considering getting a single (if it exists; I can't find it on feelunique).
Mischievous Marissa is a shimmery copper orange-gold eyeshadow. It has a great pigmentation.
Just This Once Jamie is a shimmery grayish lavender purple eyeshadow. It is the second favourite, although the pigmentation could be a bit better
—-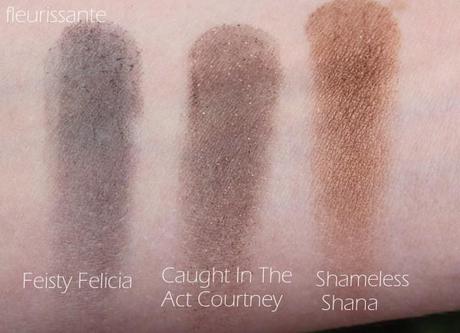 Feisty Felicia is a shimmery dark, almost black, purple with bright purple and golden microglitter eyeshadow/eyeliner and it is the biggest disappointment in the palette. It looks so pretty in the pan, but the amazingness doesn't show up on the skin. The base color isn't very pigmented – it a splotchy, uneven dark gray. The microglitter doesn't translate well on the skin – you just get a gray splotch with a sparkle here and there. The color payoff is too weak for it to work as an eyeliner (unless you use Inglot Duraline or other sealing gel).
Caught in the Act Courtney is a shimmery bronzy brown eyeshadow/eyeliner with golden and bronze sparkly microshimmer. It is another disappointment, albeit not such as Feisty Felicia. The pigmentation is slightly better, although it doesn't apply super evenly. The glitter is more apparent.
Shameless Shana is another shimmery copper shade, although it looks browner compared to Mischievous Marissa. It has a great colour-payoff.
In spite of the two bad-performing shades, I think it is a great palette. I would like the eyeshadow formula to be closer to the one of Urban Decay, but I can work with it. You just need a super soft brush to apply them. The shades in the palette offer a numerous combinations – from super natural neutral looks to smoky eye.
xoxo Tamara
Filed under: eyeshadow, make-up, palette, theBalm Tagged: beauty, makeup, palette, shady lady, thebalm