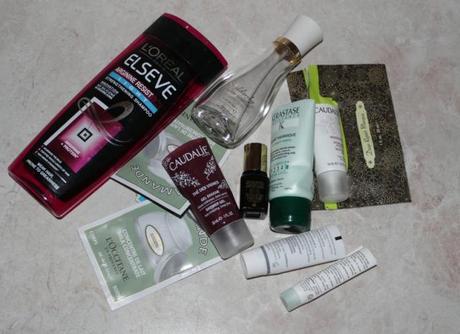 The end of November is definitely the best time to post October empties :) Hopefully, I'll post November empties before the new year.
As I assumed, after several months with enormous amounts of finished products, things have slowed down.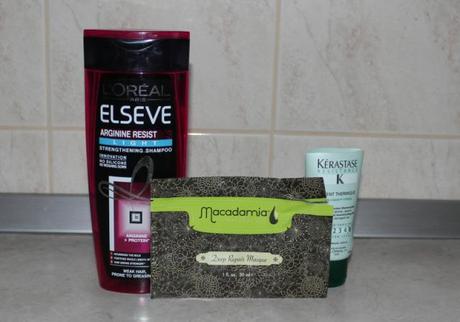 L'Oreal Arginine Resist Light Shampoo. When I first started using it, I liked it pretty much - it seemed that it really improved my hair, but that effect wasn't long-term. It made my scalp more greasy, which is not something I appreciated. I think that for the time being I'll stick with Kerastase Cristalliste range.
Macadamia Deep Repair Masque. This is a good product with a nice scent. However, I wasn't super impressed with it, so I'll probably won't repurchase it.
Kerastase Ciment Thermique. It is one of the classic heat protecting products. My hair, on the other hand, prefers Fondant and Lait Nutri Thermique. Still, I like that it didn't weight my hair down or made it more greasier. It also provided some protection from damaging effects of heat, but didn't sweep me off my feet.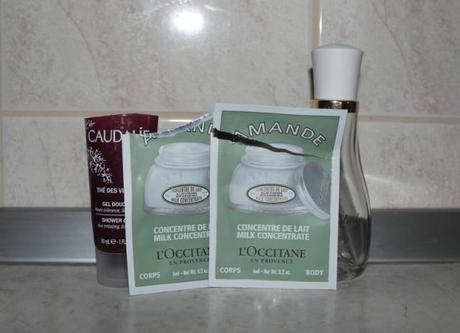 Caudalie The Des Vignes Shower Gel. Love it and repurchased it. It has a mild, but pleasant scent. It is not super foamy, but it is very gentle and non drying on the skin.
L'occitane Almond Milk Concentrate is a lovely, albeit a bit too scented body lotion. It is very moisturizing, but my nose just don't agree with the scent.
Lidl Suddenly Madame Glamour is my go to fragrance when I want to smell nice but am not willing to use my more expensive stuff. It is supposed to be a dupe for Chanel Coco Mademoiselle and I definitely can smell the similarities, but Lidl's smells better on my skin. I love it and I'll repurchase it.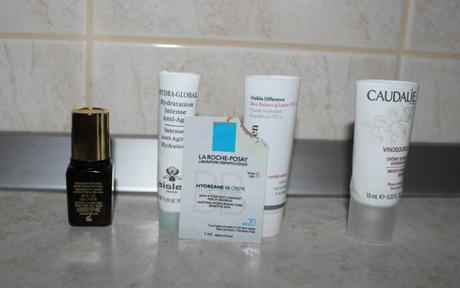 Estee Lauder Advanced Night Repair Concentrate. After reading all the raves I thought this would be the ultimate serum. Maybe I expected too much, but I can't say it did anything to my skin. I've been using it consistently for several weeks and got no results. My skin was dehydrated, flakey and blemished. To be honest, I kind of glad it didn't work. I really don't need another expensive serum on my wishlist.
Sisley Hydra Global is a nice moisturizer for combination skin. I wouldn't repurchase it as it currently is not moisturizing enough for my skin.
La Roche Possay Hydreane BB Cream is a very lovely, medium coverage bb cream. It looks really nice on my skin - blends with it seamlessly, giving it enough moisture. If I didn't have a bunch of other foundation-like products, I'd probably purchase full size.
Elizabeth Arden Visible Difference Skin Balancing Lotion. Well, I certainly didn't see any difference. Plus, I definitely wouldn't call it skin balancing as it made my skin greasy. I wouldn't repurchase it.
Caudalie Vinosource Moisturizing Sorbet is another nice cream for normal to combination skin, a tad too light to satisfy my skin's need for moisture during winter, but nice during summer. I might purchase full size.
This is all for the last month's empties edition. I'll add calculation later, plus you can expect another post on Sunday :)
Love, Tamara