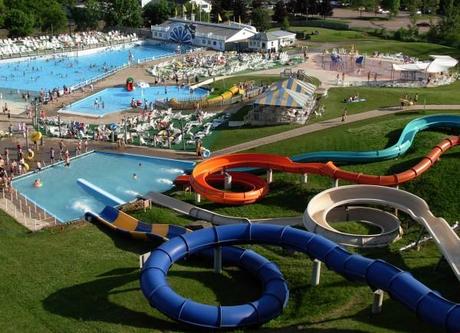 When the mercury starts soaring, there are few places more exhilarating to take advantage of the summer sun than at an action-packed waterpark. We take a look at 10 of the best places to make a splash while taking the edge off the heat.  For many people, summer conjures images of tanning and relaxing by expansive sandy beaches, sipping on a cocktail and enjoying sweltering hot days splashing about in the ocean. For thrillseekers though, summer means only one thing.
Waterparks.
In no particular order, we present some of the biggest and best water parks on Earth:
Schlitterbahn
New Braufnels, Texas, U.S.A.
They say that everything is bigger in Texas and the Schlitterbahn is no exception. One of the oldest parks on this list, the Schlitterbahn chain of water parks opened its doors in 1979 and loosely translates to 'slippery road' in German.
The Schlitterbahn differs from many of the parks featured in the list in that it doesn't make use of chlorinated water, instead opting to use filtered water from the nearby river that it then cleans and releases back into the river. With over 3 miles of tubing, seven children's water playgrounds, three uphill water coasters  and the world's first surfing machine it's no wonder that Schlitterbahn New Braufnels has been voted the #1 Waterpark in the world for 15 consecutive years in an annual poll of amusement park fans.
Chimelong Paradise Water Park
Guangzhou, China
The largest water park in the world, Chimelong Park features over 400,000 square metres of action packed, high tech water slides, rides and attractions. It features the world's largest water stunt show, a dive in Samba show and more than 70 rides.
Two of the crowd favourites are the Behemoth Bowl, a four man, 20 meter high, 80 meter long translucent tube that plummets riders into a massive bowl 21 metres in diameter; and the Super Tornado which sucks riders down a 20 meter tube alike being caught in the spiral of a tornado.
Located around two hours northwest of Hong Kong, Chimelong Water Park is a must see attraction for anyone that wants to take the edge off the stifling Chinese summer heat.
Yas Waterworld
Abu Dhabi, UAE
Set across 15 hectares of Yas Island, Yas Waterworld features a wide array of rides for everyone from thrill seekers to those that crave a little  more leisurely adventure. By breaking their 43 rides into four levels (Adrenaline Rush, Exciting Adventure, Moving and Grooving and Young Fun) guests are able to choose exactly how much they want to get their blood pumping.
It's not just the visitors that are raving about Yas Waterworld though. Just five months after opening its doors to the public, the $245 million Yas Waterworld was crowned the Middle East's Leading Tourist Attraction for 2013 by the World Travel Awards, one of the tourism industry's greatest accolades. So next time you're in Abu Dhabi make sure you jump in to see what all the fuss is about.
Wet n' Wild
Gold Coast, Australia
The year round pleasant temperatures of northern Australia mean that this is one of the few parks on this list open 365 days across the year. Each year more than one million people visit Wet n' Wild to enjoy the dazzling array of thrilling rides and slides.
Located next to the Warner Brothers Movie World theme park, Wet n' Wild features a wide range of thrilling rides including four AquaLoop slides, a stationary wave machine, zip lines, a half pipe shuttle coaster and the famed Extreme H20 zone, where only the most serious of thrillseekers enter.
Area 47
Innsbruck, Austria
Nature and cutting edge technology combine to create an extraordinary recreational experience in the ultimate outdoor playground. With high ropes courses, a 400 meter long flying fox in addition to the obligatory host of water slides and diving platforms, Area 47 is an exhilarating way to experience the breathtaking beauty of the Austrian Alps that tower over this picturesque 6.5 hectare complex. As it is set on a natural lake and river complex, guests can go wakeboarding, water skiing, rafting or canyoning down the wild waters of the Ötztal river for some real adrenaline.
For those that want to get out of the water, the Ötztal Mountains are perfect for mountain bike riding or hiking whilst climbing enthusiasts can attempt the world's highest climbing tower, the tricky boulder cave or a deep water solo climbing wall.
World Waterpark
Edmonton, Canada
The largest mall in North America is also home to one of the most impressive water parks in the world. The monolithic World Waterpark is housed within the West Edmonton Mall and has the water heated to a tropical 28°C for year round fun no matter what the weather is like outside.
Thousands of people at a time can enjoy the facility that features the world's largest indoor wave pool and 17 slides, the tallest of which is a staggering 83 feet high. Thrill seekers should be sure to check out the Tropical Typhoon, Nessie's Revenge and the Cyclone.
Best of all? Being that the West Edmonton Mall has almost anything you can imagine; when you're done at the waterpark you can just head down to the ice palace for a spot of figure skating or a game of ice hockey!
Siam Park
Canary Islands, Spain
Set on the picturesque island of Tenerife, Siam Park is a themed waterpark modelled on the ancient kingdom of Thailand. With 185,000 square metres of lush natural landscapes and exquisitely detailed oriental design, Siam Park is perfect for the whole family with a range of great attractions.
The Tower of Power is the most popular of the resort's attractions, featuring an impressive 28 meter freefall through a clear tunnel surrounded by sharks and stingrays while those after a more sedate ride can meander down the Mai Tai River taking in the spectacular views of waterfalls, lush vegetation and amazing aquariums.
Noah's Ark Water Park
Wisconsin Dells, Wisconsin, USA
No list would be complete without a mention of Noah's Ark Water Park. Holding the lofty title as the largest water park in the United States, the park has in excess of 50 white knuckle water slides as well as two wave pools, a lagoon pool, two endless rivers and a mammoth 4-D movie theater.
For maximum thrills make sure to jump on board the Scorpion's Tail, a 10 story high, 400 foot long drop that sends you plummeting down faster than 50 feet per second into a full loop, or the Point of No Return, a 10 story speed slide that takes just three seconds to complete.
Tropical Islands
Krausnick, Germany
It may not appear to be the most likely location for an incredible rainforest lapped by the waves of a picturesque beach, but 45 miles south of Berlin is one of the world's most impressive water parks, Tropical Islands. The resort is housed in a former aircraft hangar that also stands as the world's largest single hall without supporting pillars.
While there are slides, including a 27 meter water slide and a high speed turbo slide that reaches speeds in excess of 40 miles per hour, the park has an emphasis on creating an overall experience for the families that come to visit. The waterpark features the world's largest indoor rainforest with over 50,000 plants of 600 different species, copies of traditional buildings from Thailand, Borneo, Bali and Samoa and an incredible 1,200 square meter lagoon warmed to a consistent 32°C year round.
Wild Wadi
Dubai, UAE
The rapid development of Dubai from a sleepy fishing village to one of the fastest developing cities on earth is testament to the drive and ambition of this pocket of the world and they have taken the same approach with the development of Wild Wadi.
Located next to the Burj Al Arab, this desert oasis features a plethora of rides including Tantrum Alley, the Jumeirah Scheirah or the ultimate surfing experience, the Wipeout Flowrider. One of only four such devices in the world, the Wipeout shoots out more than seven tonnes of water per second to produce a realistic wave effect, ideal for learning how to hang ten.
Be Sociable, Share!