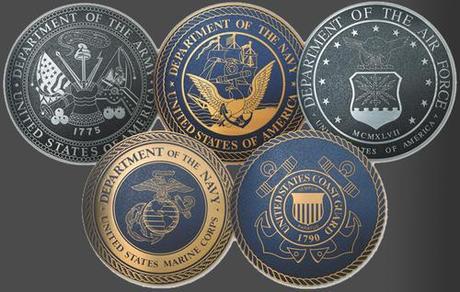 The US Military Tattoo Regulations
If you are planning to join the military, be sure to ask a recruiter about the regulations of tattooing before you get tattooed, just to be safe. In order to keep the U.S. military looking professional, a few regulations on tattoos had to be put in place. These rules are pretty much the same for each branch as far as content and placement.
Navy Tattoos are not allowed on the head, face, neck, or scalp.
Army Tattoos are permitted on the hand and the back of the neck, but not on the front or side of the neck, or on the head or face. Permanent makeup is allowed on women but nothing too flashy.
U.S. Coast Guard Only 25 percent coverage is allowed on the arm between the wrist and elbow and on the leg between the knee and ankle. No tattoos are allowed on the hands, head, or neck.
Marines No tattoos are allowed below the elbow or below the knee. This is a new regulation, which started on April 1, 2007. Marines who already have tattoos on their forearms and legs aren't allowed to add on to them. The hands, neck, and head are also off-limits for tattoos.
Air Force Only one quarter of the exposed body part may be tattooed. Tattoos are not allowed above the collarbone or to be readily visible when wearing an open-collar uniform.
Keep in mind that in the military tattoo designs must be in good taste and cannot be gang related, indecent, extremist, sexist, or racist. The tattoos also cannot show poor morale.
Naval personnel have a long-running reputation of having tattoos. This, of course, comes from the old days of tattoo shops in ports and harbors. Many of the older designs from the '30s and '40s featured a pin-up girl in a sailor's uniform. Marines are also known to get marine-pride tattoos such as the USMC Bulldog.