Hello, and Merry Christmas to you! Urban Decay has just recently launched their newest palette in the Naked line, the new Naked Basics. I'm sure there is a Naked 3,4,and 5 in the works, considering that the Naked paletteshave practically become iconic. I actually don't own the first two Naked palettes or any Urban Decay eye shadows for that matter so this will be my first experience with the brand.I have always wanted to try Urban Decay but was consistently turned off by the big bulky packaging and loud colors. I prefer brands that carry natural colors in dainty and simple packaging (think Bobbi Brown and Nars). Luckily, the makeup Gods have finally answered my prayers.  
The palette is small, sleek, compact, and it is made of a sturdy material that doesn't feel cheap or plastic and won't get dirty. In terms of how large it is, the palette is roughly the size of a cell phone with a large mirror. Inside are six everyday natural tones,  five of the eye shadowsare matte and one has a satin texture.I would say that all of the eye shadows have a nice smooth consistency and are pigmented except for "Foxy" which is a repeat. This really disappointed me especially because I have heard from the beautyverse that Urban Decay make awesome eye shadows. Poor me, I practically had to dig my finger in to make the swatch and I don't recall that happening with the tester in Sephora (sadly this happens to me a lot, isn't that right Dior? ).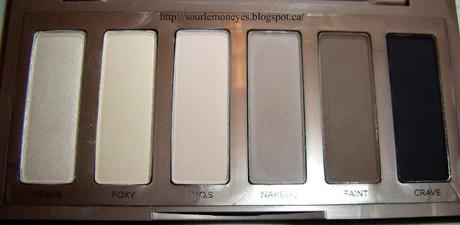 In case you can't make that out, Venus, Foxy, Walk of Shame, Naked, Faint and Crave.
As you can see, the colors are all neutral, cool toned and very basic. You have three great highlight colors("Venus","Foxy", W.O.S"), a lid/transition color("Naked"), a crease color("Faint:) and one rich, inky black definer/liner color ("Crave"). That means that you can use the palette on its own or in combination with other colors all while having most of what you need all in one place. My favorite color is "Naked" and my least favorite is the cursed "Foxy."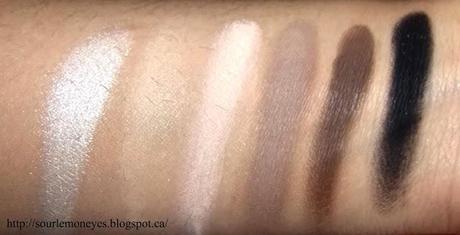 shimmery white, pale warm yellow, pale  pink , light taupe, medium cool brown, dark brown/black
I really love the idea behind the Palette and I do hope that other companies like Mac follow suit and up their game.My Verdict is that Naked Basics is well worth the buy, I only paid $37 CND and I think it costs $27 USD. I see myself and others using this palette a lot, even on days when I don't wear eye shadow I can still use the highlight and liner colors. I'll admit the colors are a bit boring, but I love it and I know I will actually use these colors on a regular basis.