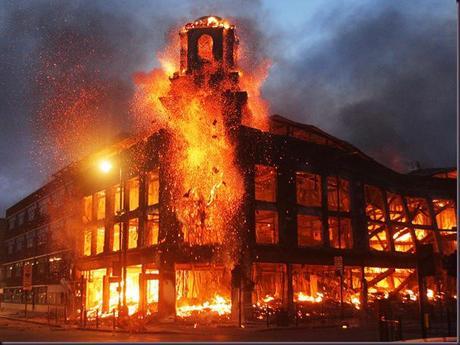 Just at the moment we are experiencing one of the most difficult square formations I have seen in my lifetime, a close formation involving a Uranus/Pluto square. The last time we saw a Uranus Pluto connection on this scale was back in the revolutionary mid-to late sixties when Uranus and Pluto were in conjunction. There were a string of coups and internal uprisings across the world. This square is likely to be more potent and destructive as it is in cardinal signs, the conjunction was in mutable Virgo. This square started to take a firm hold last Summer in June/July and is going to stay in operation for the next 3-4 years. Uranus in action is the harbinger of shocking things, of accidents; it encourages unpredictable and rebel action. Uranus is also a very socially orientated planet, connected with technology. You never know how a connection to Uranus will pan out, other than you know something will happen. Uranus picks you up by the bootlaces and drags you into the unknown. Pluto as I have said many times before either destroys all in it's path or it blocks things up completely so nothing can move, forcing major action to happen to shift the blockage. Pluto clears a path so that new structures can be built. It encourages metamorphosis, allowing change and the ability to renew in the future. Pluto can be responsible for underground action, for depravity, for torture, death and destruction. Right now both planets connected are in cardinal signs. Cardinal signs encourage positive action, they encourage one to put your foot forward & to move on. This is especially representative of the sign Aries, and Uranus is now sitting there. Putting both Pluto and Uranus together in a tension aspect as we have now and already you have seen the power and potential for massive social change.
Right now, Uranus and Pluto are being joined by Mars. Mars is aggression, the planet of war and violence and right on cue across London simmering anger over the shooting of Mark Duggan at point blank range by the police turned to violence. There is a police investigation going on to find out why that action was taken, however this trigger point gave the excuse for the arson, violence and looting to begin. Pluto is in Capricorn the planet of authority, of administration, government and businesses. London and the UK are affected as the UK ascendant lies at 7 Capricorn, right in the firing line of transiting Pluto. In London, we have seen all these elements I explained combining. Enraged rebel groups using technology and violence to target businesses, shops and the police. The social and technological element of this square make it almost impossible to hold down. In London twitter, mobile phones and other social media have allowed the trouble to spread like a wildfire. In the Arab world, the effect has been the same. Internet cafes were the focal point to co-ordinate the attacks on the dictatorships first Tunisia, then Egypt fell, then Yemen. Libya is in a protracted struggle for change as is Syria. Other Arab countries may follow as this square continues to wreak havoc. Governments and authorities are struggling to contain the speed and connectivity of the protesters, who can change tactics as fast as the local police and forces can. This is an element that they will have to get used to, and fast otherwise mob rule and anarchy could take over the streets.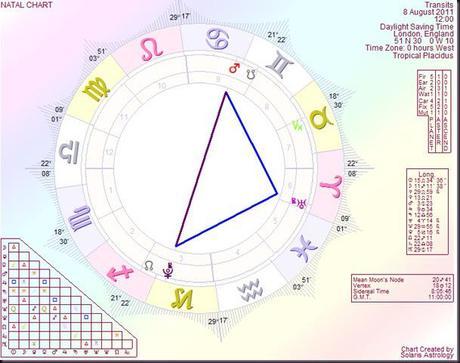 Worrying times then. So, what does the future hold? Mars in the next couple of days will tighten this square to become exact so more than likely the violence, looting of shops and trouble in London at least will extend through until midweek. We may see something dramatic happen around the 17th August 11 as the July 1st solar eclipse degree (9:12 Cancer) is activated by transiting Mars. I'm not just talking in the UK here. Then Venus moves in to square Uranus and Pluto in mid September. The next real pinch point will then be November this year, as transiting Mars makes a square to it's position right now as well as being square to it's own eclipse degree point 7:17 Gemini late in the month. On 27th November Pluto returns to it's eclipse degree point 6:07 Capricorn, something I have pointed out in a previous post. As Venus, Mars and the faster moving planets connect back to the on-going Uranus/Pluto square the potential for a major events erupting like the London riots is a definite possibility. This pattern will continue on for the next couple of years; I think it is going to be a very bumpy ride.
Timeline – dates to watch out for in 2011
4th / 10th August – Mars at 2-6 Cancer square to Uranus Pluto square
17th August – Mars hits 9:12 Cancer (the eclipse degree of July 1st 11)
16th /19th Sept – Venus at 2-6 Cancer square to Uranus Pluto square
22nd Sept – Venus at 9:12 Cancer (the eclipse degree of July 1st 11)
27th Nov – Mars at 7 Virgo (square to her own July 1st eclipse degree of 7:17 Gemini)  - Pluto at 6:07 Capricorn returns to exact position of 1st July.