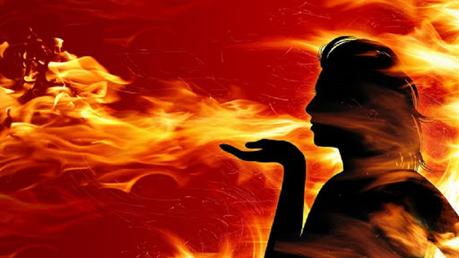 We are coming up to the next New Moon occurring in a few days time on 6th October, and naturally it will be happening in the sign of Libra, the sign of relating with others, of equality and justice. There is a very interesting dynamic with this lunation that may see some quite dramatic turnarounds in our relationships, and you already may be starting to feel a shift that is occurring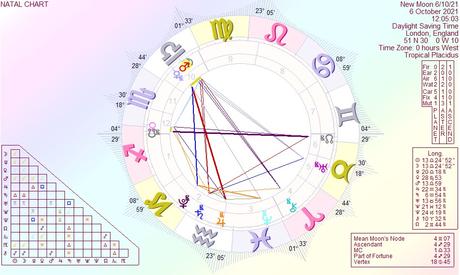 Now this New Moon makes a couple of close aspects, one conjunction and one inconjunct. The conjunction comes with the planet Mars, and so as this new lunar cycle begins, there will be a compulsion within us to act. Mars is primeval, impulsive and will make a move without thinking of the consequences. New Moons bring new beginnings, and what better way to get a project, and idea or even a business or partnership underway than to do so under a New Moon conjunct to Mars? The same can be said of relationships and new situations regarding physical love and sexual contact. The new Moon in Libra wants to focus our gaze on something or someone else, and Mars tells us to "go on and get on with it!".

So we have motivation and maybe impatience as part of this New Moon. We also have shock value too. The reason is that the Sun and Moon in Libra will be making a close inconjunct aspect to Uranus. Not only is there a need to act and do something positive right now, but there will be a direct feeling that whatever you do, it should be new, different, revolutionary, exciting, fresh... I think you get the idea!! The inconjunct indicates that there is an adjustment or change as part of the whole picture coming together, and so that means that we will be motivated to go in a new direction and maybe to change something that had finally got stale, old, not relevant any more, or even boring.

Moving back to the whole theme of 2021, you will remember that the year is under-pinned by a Saturn square to Uranus, and we have already had two of the three aspects in the series between these two planets. The first was in February and the second was in June. Right now with Saturn retrograde, these two planets are 6 degrees apart so the square is weak. Its message to us over the course of the year is to ditch old fashioned values and things in our lives that have been limiting us or holding us back, and to move on eventually to pastures new. With Saturn out of the way for the moment, with a New Moon and Mars linking up with Uranus to shift the dynamic and to be pro-active, now is a moment when we can turn things around and breath in a sense of revolution or freshness into the mundane parts of our lives, and in so doing starting to fulfil the Saturn Uranus square.
All this in Libra happens when Mercury, the planet of the mind is retrograde and still square to Pluto, the planet of power and transformation and trine to Jupiter too. This is important, and Mercury retrograde in Libra makes us think and consider in our minds about the person opposite us. Back a few weeks ago, I said that Mercury retrograde might shake up our attitudes to others, our in our lives, our relationships as well as to matters of fairness and justice. If ever you are to break ties with someone and to go in a different direction, or to seek payback or equality for something seen as unfair, now will be the moment that you will act to change the agenda, to ditch the boyfriend or spouse who has been letting you down, to get the justice you have been seeking for ages. The need to make a decision (Mercury) to bring the agenda back into your own hands and to grab back some control (Pluto) will be very very strong. The trine to Jupiter will be asking you to break out and to take a chance, to expand you life experiences, to believe in yourself and your ideas and decisions. Many of you with planets in the 11 to 15 degree range will be feeling this New Moon like crazy as all four planets Sun, Moon, Mars and Uranus will be sitting at 13 degrees of their respective signs. You will be in the cross-hairs of this potent energy to make a direct and sudden change.

This new Moon many have a profound impact on our lives in the context of moving on from anyone who has not lived up to our expectations, and you may suddenly get the urge to do something radical and new. We should never deny the planets and with Pluto, Saturn, Jupiter and Mercury all ending retrograde and turning direction in this month of October, this moment may prove to be the lighting of the fuse that sets of a series of explosions that knocks down and eradicates the blockages in our path to a few and brighter future.

Grab the nettle and make the move. Red hot passion and excitement, revolution and change awaits you if you want it. It might not last forever, but it'll give you new persective. You'll be ultimately glad you did by the end of the year...

If you like my work, I am open to online consultations too. Please message or email me for more details. Thanks...