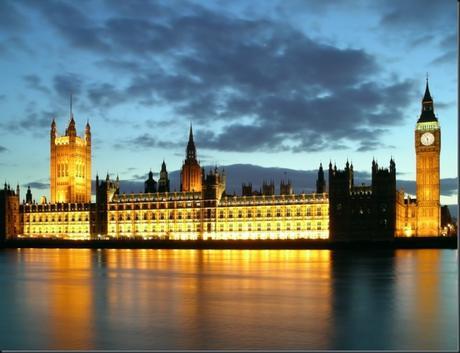 Hi everybody. It's time to look at the United Kingdom General Election happening in two and a half weeks and if the polls are to be believed the Conservative party under Prime Minister Theresa May seem to be on course for a big win come 8th June 2017.
Now as an Astrologer, calling the outcome of this election or confirming the potential direction that the people will choose is made more difficult as we do not have full birth details for Prime Minister May nor for the opposition Labour Party leader Jeremy Corbyn. Not being in possession of the individual birth details (I don't have birth times for either) I don't want to make bold predictions for either of the leaders, however I will make a couple of points based on the aspects they are definitely receiving.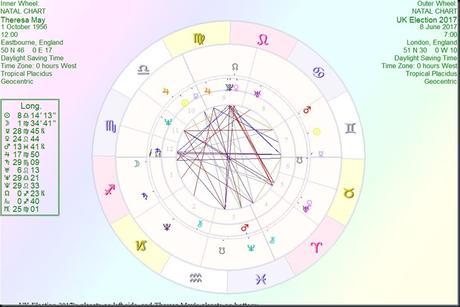 PM May is a Sun Libran, born 1st Oct 1956 in Eastbourne, UK and thus her ruling planet is Venus, which sits at 24 degrees Leo in her natal chart. What I can say for sure is that transiting Saturn, the planet of worldly progression will be at 24 Sagittarius on election day, thus making a very beneficial trine for her. At the same time, the fortunate transiting North Node will be at 26 degrees Leo applying a conjunction (the Nodes travel backwards through the zodiac) and this will also be helpful to her personally. Uranus has been trine to her natal Venus too, and although this aspect has already passed (transiting Uranus will be at 27 degrees Aries) the effects of this trine that no doubt prompted her shock decision to go to the country will still be aiding her to appear as fresh, bold and innovative. Finally on the plus side, her natal Jupiter is at 17 Virgo and transiting Pluto, the planet of power and change will be at 18 Capricorn, again making a nice looking trine and one that should extend her personal power and outreach.
On the negative side for her, transiting Neptune will be sitting on her natal Mars, weakening her physical energy (she will be grateful when this gruelling election campaign is over) and it opposes her natal Jupiter, so she will have to overcome the perception that she is making false promises or pushing her luck due to complacency caused by the tremendous lead that she enjoyed, even before she called the election. Transiting Uranus is also inconjunct to her natal Saturn, and she may be compelled to change or adjust the way she works and administers things or change her leadership style. This may be either useful or detrimental to her as things progress on, we shall have to wait and see.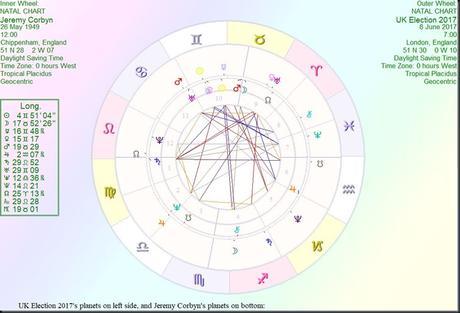 Jeremy Corbyn is the Labour party leader born on 26th May 1949 in Chippenham, England, thus he is a Sun sign Gemini ruled by Mercury. Now the Sun will be sitting on his natal Mercury Venus conjunction at 15-16 degrees Gemini at the time of the election raising his profile, however square to these two planets and the Sun will be transiting Neptune at 14 degrees Pisces, making him appear weak, vague and ineffective. This period of his life will be tending to drag him down although at the time he may not be realising it. Incidentally, the next Prime Minister and government will be formed under this Sun square Neptune, not a good omen for moving forward as the strong government that the UK needs may actually be lacking in strength, and it may be too idealistic and aimless in the direction that it takes.
Transiting Neptune is inconjunct to his natal Pluto and this suggests a weakening of his power base because of this election day. Corbyn was given a resounding vote of confidence a few months ago through the Labour party members who voted for him at a leadership election, however Neptune in this inconjunct aspect will weaken his control on things. Now transiting Jupiter will be sitting on his natal Neptune, and I feel that Corbyn even if things don't go for him, will be satisfied that he upheld his idealistic beliefs of a much more compassionate society. There is an inner peace that descends when these two planets combine in conjunction. Transiting Pluto at 18 Capricorn will be trine to his natal Mars at 19 Taurus, and this brings huge determination and a tremendous drive for success and power, and if he doesn't succeed it won't be for the lack of trying. I think Jeremy will fighting until the last moment for votes.
The last significant aspects that I see on his chart have transiting Uranus trine to his natal Saturn while in a conjunction to his North Node, and this often brings a need to challenge the establishment by putting forward a radical agenda. Now whether the country wants this as a whole is open to question. His supporters will love his approach, however I am not so sure that the UK will be in a mood for a change in direction with important Brexit negotiations looming on the horizon. These aspects suggest a shift in his career ambitions or his progress in life takes a sharp turn from that which it once was. Certainly on the back of the result of this election Corbyn will likely change his working focus. Whether that means that he steps down as Labour leader as a result of a defeat I am not entirely sure, but the trine suggests a rapid or shock exit or change in focus is likely.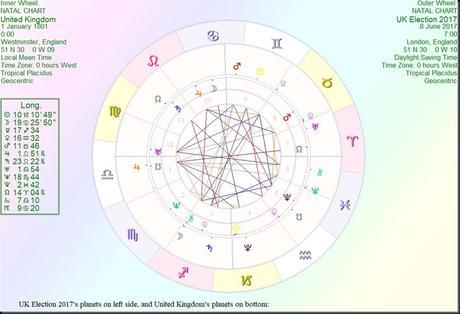 That's about as far as I can go with the party leaders and thus I move on to examine the UK national chart against the date and time of this election. Transiting Mercury represents the vote and decision to be taken and interestingly it opposes Chiron, makes a square to Pluto, a trine to Uranus and it forms a sextile to Jupiter. This vote focuses on a wound, or if Virgo rules Chiron as I think it does, a sacrifice made (Virgo rules 12th house) in conjunction with a change and transformation (square to Pluto) over self determination, taxes, big business and power (Pluto in 5th), the economy and British values (Pluto rules 2nd). The trine to Uranus highlights matters of independence and self determination again linked to a sacrifice made (Uranus in 12th house ruling 5th). The vote is also connected to expansion with beliefs in government, with other countries and cultures as well as business, trade, schooling and infrastructure matters on a more local level (Jupiter rules 3rd house). Much of these issues are connected very closely to the Brexit vole last year.
Focusing elsewhere, transiting Saturn is going to be trine to the UK Saturn ruling the UK's 4th house of the foundation of the nation, a clear sign that the people want a steady as she goes approach, there are no radical changes in the way the country is administered here, indeed the transiting North Node is approaching the UK natal Saturn and this bodes well for those who want solid and stable government of a restrictive and conservative nature. Transiting Jupiter, the planet of expansion is in the UK first house, but conjunct to the natal South Node, holding back those of a more liberal nature for the moment at least. Transiting Neptune is widely square to the UK natal Mercury, representing the press, transport issues, education (in the 3rd house) and local issues, as well as laws, relations with foreign nations (Mercury ruling 9th house) and the health services, prisons and sacrifices that the nation will have to make, however this connection is more likely to be influential during 2018 and 2019, the years when the Brexit deal negotiations will be more prevalent. transiting Pluto opposes the UK natal Moon and again this is an aspect for 2018 as Pluto is currently retrograde and this aspect is losing strength. I feel that this opposition will see a fundamental challenge to the people's of the UK and the nations of England, Wales, Scotland and Northern Ireland actually staying together. Transiting Uranus which might indicate a shock or different result is not making any aspect to the UK chart at this time.
Even from the restricted picture I am viewing with a lack of birth times, from these aspects and the mood of the country that I see around me, unsurprisingly I am sensing a comfortable Conservative party victory for the incumbent Prime Minister Theresa May. I base this judgement based primarily on the lack of change highlighted in the connections made, plus the much more beneficial aspects to her chart rather than to Jeremy Corbyn, who I suspect may resign his position soon after the election is called...