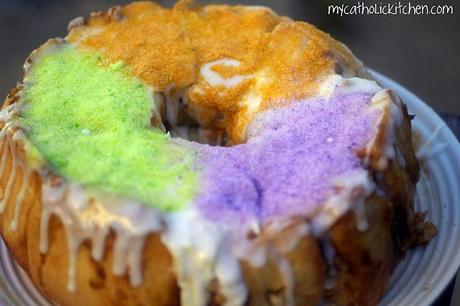 Hey Ya ll, this is my third installment of the
Holiday Recipe Club.
This is a cute little club by Erin over at 
Big Fat Baker
.This is where Monkey Bread meets King Cake.The ingredients were bananas, bourbon and andouille sausage.Well I picked bourbon. Yup! It is Fat Tuesday and this is my very sincere attempt at making this wonderful cake. This without a doubt has to be the ugliest cake I have ever made. It did however taste very good. That is why I am so glad we do not eat with our eyes. So if you decide to make this, just close your eyes while you eat it.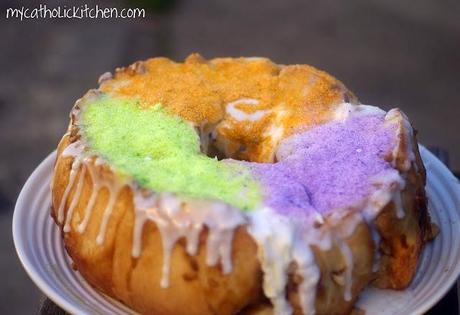 Pull A Part King Cake
36 Rhodes Dinner Rolls thawed
1 cup brown sugar
2 1/2 teaspoons cinnamon
1 stick butter softened
2 teaspoons bourbon
Directions
Preheat oven to 350 degrees
Cut each Rhodes dinner rolls into 4 pieces.Set a layer of rolls in the bottom of a greased bunt pan. Combine brown sugar, cinnamon, butter and bourbon. Sprinkle over rolls.. Add another layer of rolls and sprinkle with remaining cinnamon mixture.Allow to rise for about 2 hours, or until doubled. Bake for 20-30 minutes.
The mixture may spill over in pan. Protect your oven with a pan set below.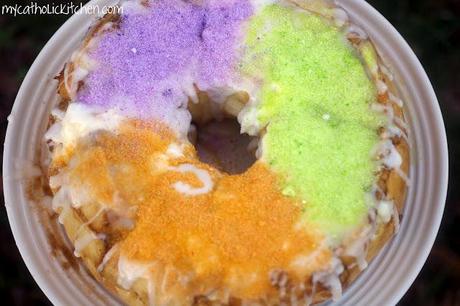 Frosting
3 cups powdered sugar
3 tablespoons milk
Stir together powdered sugar and milk to reach a drizzle consistency. Drizzle over cake.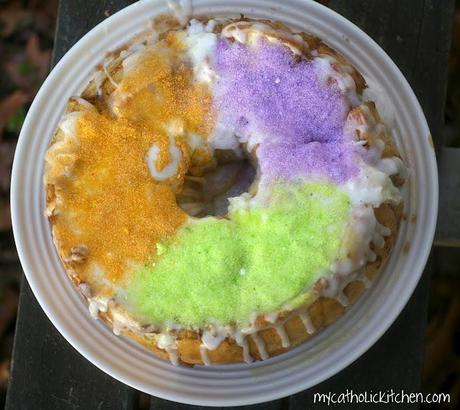 Colored Sugar
1 1/2 cups white sugar
1 drop green food coloring
1 drop yellow food coloring
1 drop purple food coloring
3 ziplock bags
Place 1/2 cup of sugar and one drop of food coloring in each bag. Shake and squeeze vigorously to evenly mix colors. Sprinkle over frosting.
Peace be with you,Veronica