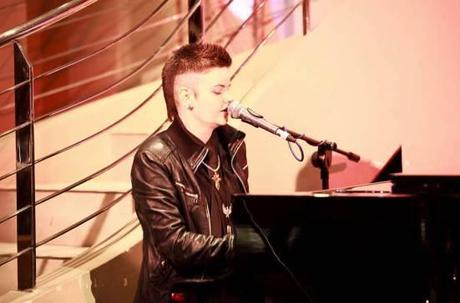 While there are a lot of Jazz musicians I like, I'm certainly no authority on the subject. So it was with a bit of uncertainty that I gave this album a listen and I'm glad I did.
In this age of reality show contests and auto –tuned pop divas it's nice to hear a real singer – songwriter willing to bear all with a natural skill. Faye Patton takes the listeners back to a bygone era of the Jazz singers, when classy women like Ella Fitzgerald, Nina Simone and Billie Holiday would fill smokey clubs, mesmerising the listeners with the voice and songs inspired by their life experiences.
In addition to singing, Patton accompanies herself on piano and guitar. She is quite accomplished on both instruments and is always part of the band, never overtaking the spotlight. Her music contains a sense of the familiar while adding some fresh ideas that result in an overall unique style.
The album, Dangerous Loving, takes the listener on a ride through both joyous and hurtful songs. Patton's singing is impressive, passionate and personal, bringing the listener into her world with honesty and a willingness to open her soul. Within the structured song writing Patton manages to find room to explore and experiment with her vocals, pushing her own boundaries. The opening track, Ripped and Torn, grabs the listener immediately with its easy feel and Patton's voice. Tracks like A Game and Vessels of Independence are slow and reflective. The latter containing a bluesy feel. Whereas Good Things with its wah drenched guitar has a more funky style. All Around Town is a lively, upbeat number for those who didn't live in the 40s, this is as close as I think we'll get. It has a pretty cool guitar solo too. As the title suggests, Sweet Little So'N So, is a tongue in cheek number. In contrast, Bitter Seed is sultry and laid back. Susan Says contains an urgent underpinning piano which accompanies her voice well, with lots of room for vocal exploration. No Sudden Moves kicks off with a horn intro and feels like a score from the Film noir genre, conjuring up images of lonely streets in the midnight hours.
I'm old school in the way I listen to music. I love albums. I've never gotten into downloading a song here and there so the song sequencing has always been something I pay attention to and Dangerous Loving is laid out well. From start to finish the listener is taken through a selection of various styles that all fall under the Jazz banner.
Verdict: It would be easy to say this album was for late night listening. And while it would certainly be a good choice for a dinner party it also demands the attention of repeated listens to uncover its various layers.
-Dave
Find out more about Faye Patton:
Facebook Twitter YouTube Website