Every bride deserves to look her best on her wedding day. Indeed, the wedding industry is always pushing various types of dresses, makeup, manicures and other bridal accessories that will help you sparkle and look ultra-glamorous on your special day. However, while you may be completely polished from head to toe, there are five main factors in your bridal attire that will ultimately set off the vibe that you want to give while enhancing your overall look. So, read on to familiarize yourself with the top five favors that will help you enhance your bridal attire.
Tiara
The ultimate bridal accessory by excellence, tiaras can very easily add flair and panache to your outfit. Bear in mind that tiaras don't have to be expensive. There's no law which states that your tiara should absolutely be made of expensive stones. If you're on a budget, don't hesitate to get an ordinary one with semi-precious stones. It's quite important to match your veil to your tiara as well: an elaborate lace veil will look absolutely stunning if paired with a glittery tiara with white and red stones.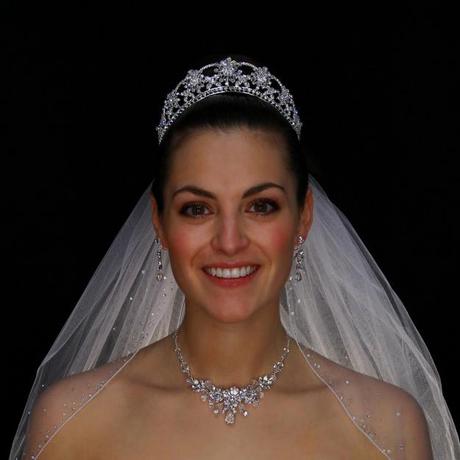 Veil
The veil- or lack of veil- is another important factor to consider. If you do choose to wear a veil, it's absolutely important to choose one that goes perfectly with your dress. You do not want to accessorize a thick, velvet dress with an equally thick velvet veil: this will only drown you and bring a rather tacky look to your overall outfit. For a more striking effect, it's always best to create a contrasting feel between your veil and dress.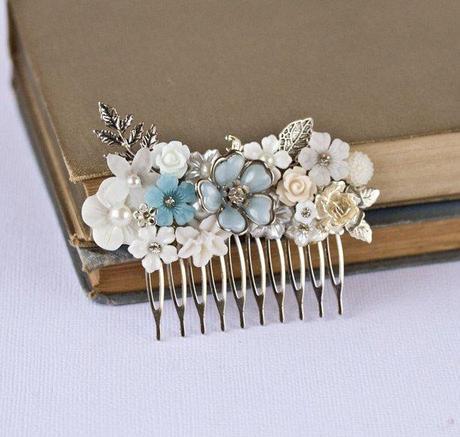 Something Blue
Some bride believe in the age-old adage of donning something blue on their wedding day for luck. Luckily, there are quite a few blue-tinted accessories to choose from. A simple blue hair pin is discreet enough to enhance your outfit without being over the top. If you do want to go over the top, however, you can go for a blue-stoned tiara or even a prominent blue necklace to enhance your cleavage. Non-traditionalists can even dip-dye the end of their hair blue and allow the strands to cascade freely down their shoulders as they glide down the aisle.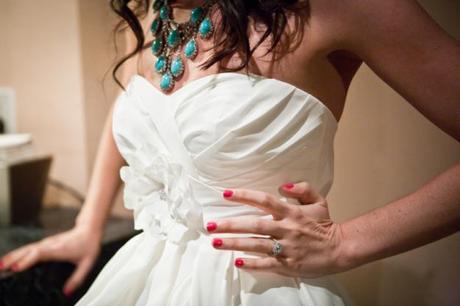 Garters
Garters are other much-neglected accessories, especially of you believe in the all-time tradition of tossing the garter. In some cultures, tossing the garter is an integral part of the wedding reception, not unlike throwing the bouquet. In fact, the gentleman who manages to catch the garter is supposed to place it on the leg of the young woman who managed to catch the bouquet. Hence, it certainly pays off to ditch your old, frayed garter in favor of a brand new one. Don't hesitate to add a splash of color to your outfit by going for a bright red, green, yellow or even blue one.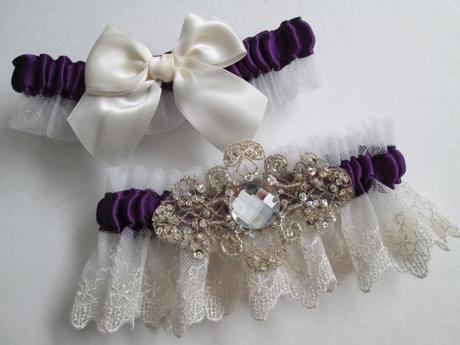 Gloves
Far, too many brides worry about finding the perfect shoes when in fact, they're not even visible from underneath your long dress. So, it's important to focus on the items that are going to be most visible and striking. Gloves, for example, are an integral part of your bridal attire and will ultimately set off the tone and mood of your wedding. In fact, gloves are quite the underestimated accessories: many people ignore how wearing them- or not- can ultimately transform your entire outfit. For instance, a strapless dress with long, elbow-length satin gloves can instantly make even the simplest of dresses appear more elegant and glamorous, especially if you choose to go for glittery ones.