Winter weddings are reputed for being exceedingly romantic. Indeed, how can you not feel the magic of love as you walk down the aisle with a backdrop of snow-capped mountains from the window of your ski lodge. In fact, ski lodge weddings have recently soared in popularity and are now among the most sought-after venues. Best of all, winter has a pronounced fairytale air to it which will undoubtedly enhance the romantic atmosphere.
Here are some tips that will help you plan a wonderful ski lodge wedding.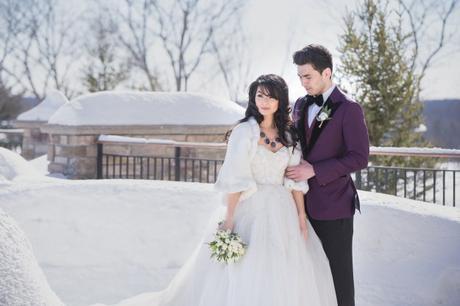 Source image
Outdoors or indoors?
The first thing to ask yourself is whether you want to have an outdoors or indoors ceremony. Of course, this logically depends on the type of weather that you're having. For example, winter's just starting or ending, you can easily have the ceremony outside the lodge and the reception in the ski lodge. Lodges are normally found at higher altitudes which means that your guests will be able to benefit from a stunning and wholly natural scenery. The natural scenery will also enable you to cut back on any cost associated with decorating since you will already be in a stunning setting. When planning your outdoors ski lodge wedding, remember to keep warm: brides, for example, should preferably wear a shrug or cardigan on their wedding dresses.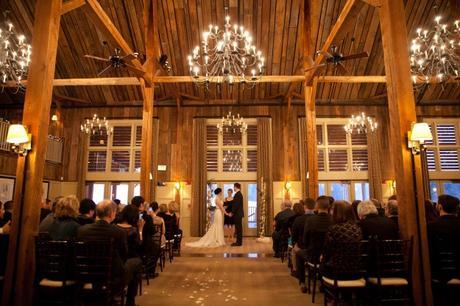 Source image
For an indoors lodge wedding, however, you will certainly be warm enough, hence enabling you to focus exclusively on the decoration and accents. Most lodges are equipped with chimneys so don't hesitate to ask them to turn on the fire while you walk down the aisle. This will undoubtedly add some extra flair and charm to your wedding as a whole. When planning your ski lodge wedding, don't hesitate to add some extra lanterns for a more vintage-like look.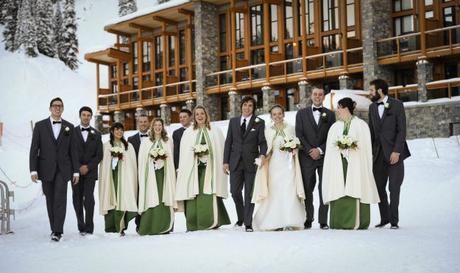 Source image
Food
If you're having a ski lodge wedding, it is important that the food remains in harmony with the rest of the setting and decoration. Therefore, try to give modern wedding fares like sushi and delicate cucumber sandwiches a miss. On the contrary, do focus on hearty stews, roasts and the likes. In fact, you can even go for a Viking or Medieval-like menu just to keep in touch with the overall decoration.
Source image
Wedding attire
While you can certainly tie the knot in just about any wedding dress of your choice, it's not a bad idea to favor a dress that comes with frills and laces, once again ensuring that everything is homogenous and remains aligned with the ski lodge location. Think Spanish-style gowns with several tiers of billowy lace and gauze. Similarly, you can also go for Victorian-style wedding dresses with lace-u p corsets designed to nip in your waist and show off the curve of your hips. Remember that ski lodges are often located on higher altitude so you might get cold, even if you're holding the weddings indoor. So, dress adequately and use scarves or capes if you need to.