Wiccans commonly refer to a group of people who believe in the power of nature and natural energies. This nature-oriented faith very often focuses on the seasons as well as the cycles of the moons. This is why several Wiccan weddings are often held at night in the great outdoors, with the moon shining upon them. Not unlike Celtic weddings, Wiccan weddings are full of traditions and romanticism. Emphasis is often placed on the attire as well as the hand fasting ceremony which is said to forever link the lovers to each other. Some Wiccans also embrace Celtic traditions and consequently add some special touches such as the Claddagh ring and the likes.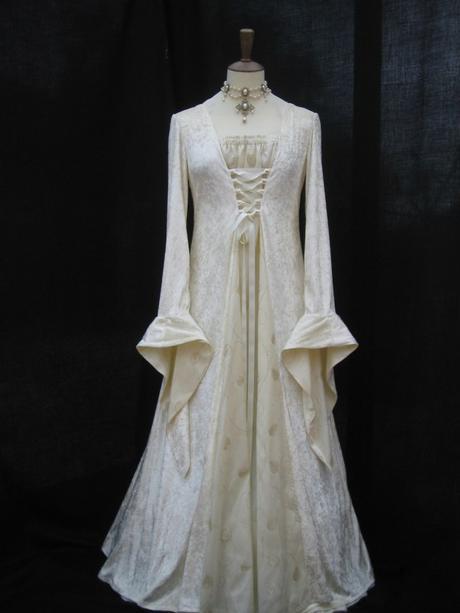 Source image
Wedding clothes
Traditional Wiccan weddings often involve clothes that have been inspired by the Middle Ages. The wedding dress, for example, often boasts of a Celtic style with bell sleeves and laces. The groom either wears a tux or a long coat. Alternatively, couples can also wear contemporary wedding clothes while following ancient Wicca customs.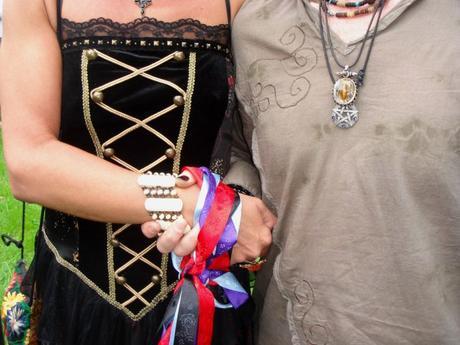 Source image
Hand-Fasting ceremony
The hand-fasting ceremony is an essential part of the Wiccan wedding. This particular tradition basically consists of the priest binding the bride's and the groom's hands together to symbolically link them for life. It is important to know that the hand-fasting ceremony can either represent a wedding or a betrothal ceremony, depending on the personal beliefs of the couples. This tradition finds its roots in ancient Celtic and European lands, whereby weddings were normally held to join two farming families together for a far better crop production and profit. To mark the joining of the families, the couple would exchange presents before clasping their hands together. Nowadays, this tradition is highly romanticized by Wiccans. In fact, special decorative ribbons are commonly used for the hand fasting ceremony and later on preserved by the couple as a memento of their special day.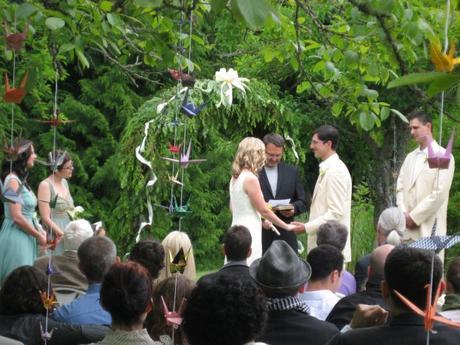 Source image
Enjoy the great outdoors
Since wiccans are so often in touch with nature, it is quite understandable that they would want to have an outdoors ceremony. In fact, the majority of Wiccan weddings are held in the forest or in any green area. In some cases, you can even rent a garden to hold your fairytale Wiccan wedding.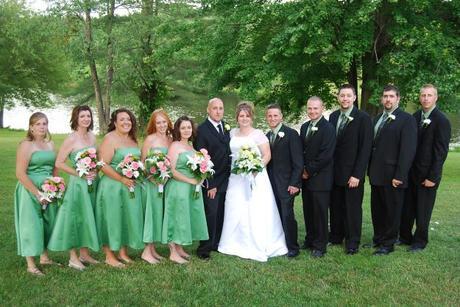 Source image
Color palette
Earthly tones are very often favored for Wiccan weddings. Therefore, be sure to lay quite a bit of emphasis on autumn-like colors such as deep gold, brown, dark orange, green and the likes. Wiccan brides often choose to wear white and green dresses to symbolize their attachment to nature. If you want an all-white dress, however, you can add a simple green waist sash to your attire. Don't hesitate to go for earth-colored cakes as well with fondants in various colors. Similarly, you can also go for LED candles in varying colors to once again draw attention to the Wiccan theme. As far as the buffet is concerned, do not hesitate to go for gold tablecloth and dark green plate settings.