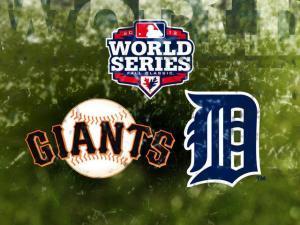 Image: point-spreads.com
- Adam Parker
The 2012 Major League Baseball playoffs have reached their pinnacle — the World Series. This year marked the first campaign where ten teams had a chance to play their way into the big dance.
The ten teams who began the journey: the Cincinnati Reds, St. Louis Cardinals, Washington Nationals, San Francisco Giants, Atlanta Braves, New York Yankees, Detroit Tigers, Texas Rangers and two surprise Cinderellas in the Oakland Athletics and Baltimore Orioles.
Now, that list has dwindled down to two — two teams who began their quest for a World Series title on Wednesday night — the Detroit Tigers and San Francisco Giants.
Games One and Two are already in the books with the Giants — led by Pablo Sandoval's 4-4 night at the plate including 3 home-runs (two of which came off Tigers' ace Justin Verlander) — surprisingly cruised to a comfortable 8-3 victory in Game One and shut out them out 2-0 in Game Two behind seven strong innings from Madison Bumgarner.
But this series isn't over and as such, we here at Beard and Stache are going to offer our ten keys to the World Series.
10) Justin Verlander
- Before this season, Verlander's prior postseason appearances were not kind to him and prior to Wednesday night where the Giants' contact-focused lineup tore him to shreds, he had made up for it by being lights-out in 2012 with three wins in three starts. The question is, since he has the potential to make two starts in this series, will Verlander be able to rebound against a very challenging Giants' lineup that never quits if given the opportunity? We'll have to wait and see, but this brings me into my next point.
9) Tigers' Starting Rotation Against Giants' Lineup
- It's no mystery that the Tigers' starters — especially Verlander and Max Scherzer — make waves with their ridiculous strikeout numbers. However, Bruce Bochy's club has proven this postseason that they're going to put the ball in play, it's hard telling whether or not the Tigers' rotation will truly be
that
effective.
8) Tigers' Defense Against Giants' Hitters
- I brought up how the Giants aren't strikeout prone or slumping (like the Tigers' two previous opponents in the Athletics and Yankees, respectively) and are putting the ball in play thus raising the importance of the Tigers' defense.
Unfortunately for Detroit, their defense hasn't been anywhere near as good as their offense. They ranked in the middle of the American League during the regular season in terms of fielding percentage (.983) and have six errors in 10 postseason games this year. Needless to say, that will have to improve if the Tigers hope to win.
7) Tigers' Bullpen
- Their starting rotation is solid for numerous reasons and they found a nice postseason surprise in Phil Coke as their closer. The relief pitchers in between? They've been extremely suspect.
6) Marco Scutaro -
In case you've forgotten, Cody Ross went on a similar run for the Giants during their World Series run (and eventual triumph) two years ago. Now, Scutaro, arguably the mid-season acquisition of the year in some people's eyes (crazy, right?) is on a similar hot streak. Good luck slowing him down.
5) Miguel Cabrera -
He hasn't really hit his stride yet and has pretty much been kept under wraps this postseason, hitting .282 with one home run in 10 games.
Then again, we have to remember that Cabrera won the Triple Crown this season — the first since Carl Yastrzemski won it back in 1967. Cabrera has proven to be the best hitter on the planet and now he has a chance to showcase his skills on the biggest stage. Something tells me he won't be under wraps for much longer.
4) Prince Fielder -
When the Tigers shelled out a King's ransom to lure Prince to Detroit, the league was shocked. He had another stellar regular season but as of right now, he's only hitting .214 in 10 postseason games. That being said, you have to believe that the odds of Prince turning things around are fairly good.
3) Sergio Romo -
Brian Wilson who? That's something I'd never expected to be saying after the Giants lost their bearded masterpiece of a closer for the entire 2012 season.
After a great regular season in which he posted a dazzling 1.79 ERA (held right-handers to a .192 Batting Average while holding lefties to a minuscule mark of .162.), Romo, in large part due to that nasty slider of his, has solidified his role as the Giants' closer while Wilson works his way back. He may not have the same gas that Wilson has, but make no mistake — Romo has the goods.
2) Baseball is a Chess Match -
I can't imagine the amount of analysis and thought that goes into every decision that Jim Leyland and Bruce Bochy make night in and night out during the season, and in the World Series, the managerial chess match is bound to play that much more of a pivotal role when the chips are down.
1) Numbers Don't Lie, But Then Again, They Are Just Numbers -
The winners of Game 1 have won eight of the past nine World Series and 13 of 15. Will that hold true? It's hard telling. After all, they're only numbers.
Be sure to follow Beard And Stache on Twitter 
@BeardAndStache
, and also Adam 
@Adam_Parker43
, Like our Facebook page 
HERE
!