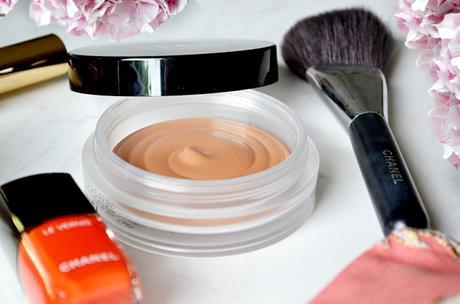 It isn't just the weather that differs when the seasons change, my beauty routine gets a total overhaul too.
When summer arrives it brings with it a whole set of new challenges; hydration, sun protection and a new color palette to match the brighter weather and potential travels. In the first of my Summer Beauty edits, I choose the products making the cut for my holiday make-up bag…..
Chanel's Soleil de Tan has been my ultimate summer find. The cream-gel formulation actually brushes on like a powder, to give a buildable naturally bronzed finish. You can wear under or over your foundation for a tanned effect, or like me, wear over a little concealer for a light coverage.
With perfectly prepped toes on full display in the warmer months, a bright Chanel hue is a pedicure essential. 'Espadrille' is a tangy shade of tangerine that helps to accentuate even the palest tan. Pair with strappy sandals for an instant vacation, wherever you are.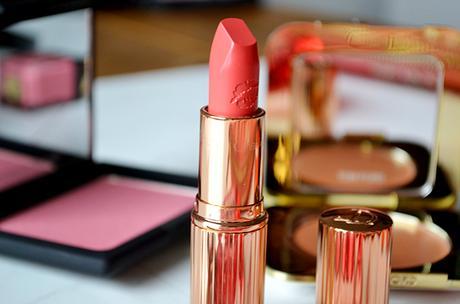 Charlotte Tilbury
 is my favorite brand currently and so there was no way I wouldn't splurge on her range of charity lipsticks as soon as they came out. My favorite for summer is the fiery coral inspired by actress Emily Ratajowski and appropriately titled 'Hot Emily'. The color embodies Emily's cool girl confidence and modern sexiness, perfect for beach to bar occasions. £1 of every sale from the collection goes to Women for Women International.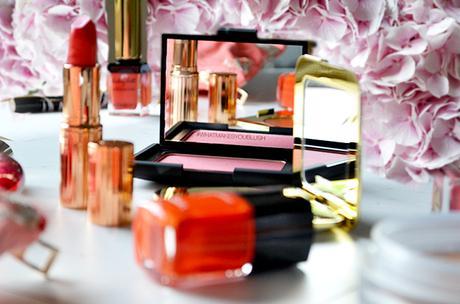 NARS Orgasm blush is a beauty icon and this oversized limited edition version will see me through summer and beyond. The universally flattering pink hue gives any complexion an instant lift and the silky texture is easily blendable for a more natural look. A cult classic, whatever the weather.
Part of the seasonal Soleil Colour collection, Pieno Sole is a cream based bronzer from Tom Ford that is an instant summer hit. The shade is medium light, so works well on those with paler skin like myself and has a pearlescent texture which adds radiance when swept across the cheek bones for an instant summer glow.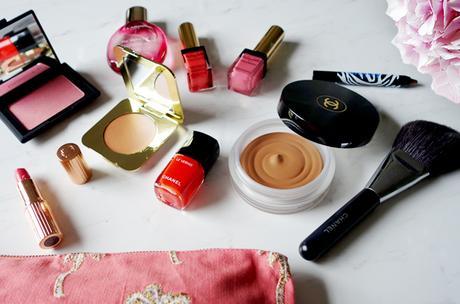 As someone unskilled in the area of make-up application, the simpler the product, the more likely it is to make it into my beauty bag, particularly when it comes to the holiday edit. The Sisley Phyto Eye Twist is a dual purpose eye pencil that you can use as a shadow and eyeliner. Shade number 11 is a deep bronze which is the ideal vacation color as it can be worn as a tan enhancing metallic or blended into a daytime neutral.
Another dual purpose product that has made it into my holiday edit is the YSL Kiss & Blush, which as the name suggests is for lips or cheeks. The color is buildable, so one application will give a fairly sheer result, but further applications will give a more pigmented finish. The texture is light and non-sticky, with shade 8 'Pink Hedoniste' being my favorite for a bold summer look.
I was dubious of a fixing spray prior to trying out this Clarins Fix Make-up, however I am a total convert and this is fast becoming a holiday essential. Mist this over make-up to hydrate and calm shine as well as keeping everything from melting away in hot and humid weather.
Even my make-up bag has received a summer upgrade. As soon as I saw the cute palm tree motifs on Lucy Williams' snapchat, I knew I had to indulge my own collection ready for my forthcoming holidays. The cotton washbag by Elizabeth Scarlett was inspired by the palm trees of the French Riviera, and its gorgeous coral hue is the ideal travel companion or beach accessory.
All products individually linked or Shop my Beauty Picks at John Lewis >