Hi loves!
I hope you guys are having a lovely week so far!! It's been beautiful weather here so I really can't complain too much :) 
Water marbling has always been something I've usually admired from a far... I try my hand at it every once in a while but it just gets so discouraging because the polishes I use don't always work, I mess up a few nails, the clean up is horrendous, or my personal favorite, I spill water all over my desk -_- But enough of my complaining! I decided that me and water marbling were going to become fast friends. I was going to do it until I got the technique down and I only spilled all the water a couple of times ;) To my surprise it went pretty smoothly this time! I think it has a lot to do with the fact that the polishes I chose worked well for marbling. 
So let's get started! I started with a base of OPI My Boyfriend Scales Walls on all of my nails. Then I used China Glaze Sun-Kissed and I'm With the Lifeguard for my marbling colors and marbled my middle, ring, and thumb. Then I did two coats of I'm With the Lifeguard on my index and two coats of Sun-Kissed on my pinky.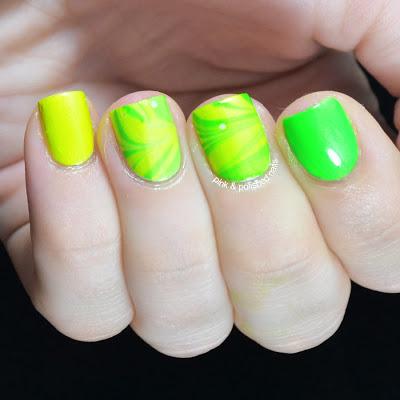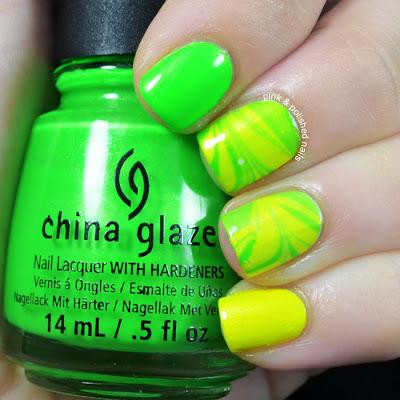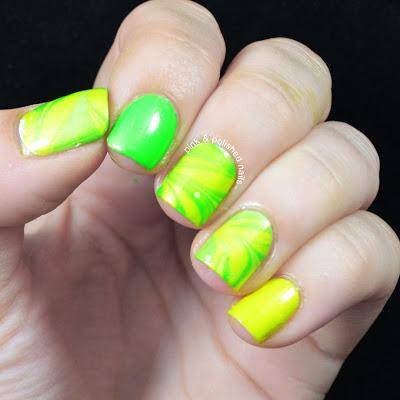 For once my camera wasn't horrendous at photographic neons! I still had to do some color correction... hence why I look like I have jaundice in the last photo -_- but not nearly as much as I'm used to when I work with neons. The difference between the green and yellow was a lot more noticeable in person but they still photographed remarkably well ;) These were so darn bright I needed some sunglasses just to look at them B) 
I don't think I'll ever get tired of using neons in the summertime. What's your favorite thing to wear on your nails in the summer? Thanks guys :)