I had a jam packed weekend, the pinnacle of which was Sunday brunch at The Steady.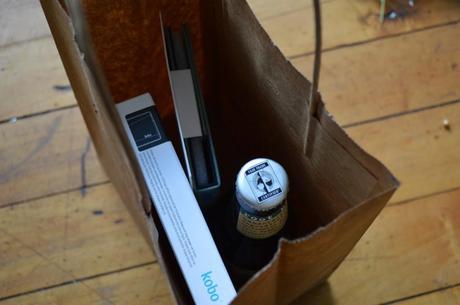 This didn't really happen on the weekend but look at the surprise gift (yes, another one!) my hubby got me! A kobo and a root beer! My perfect night in.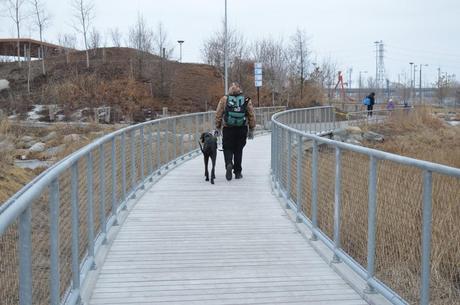 Saturday morning we took Luna Bell for a nice long walk then to the dog park for a run. She was one tired pooch after that!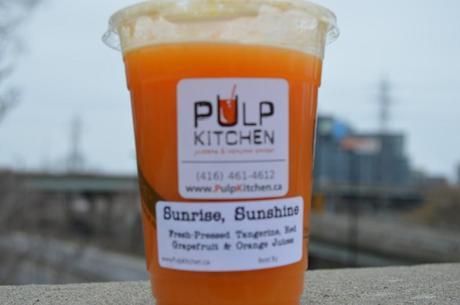 Sunrise, Sunshine juice from Pulp Kitchen to wake me up!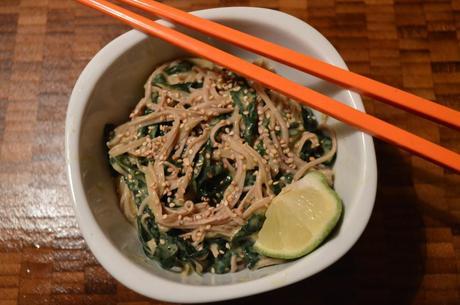 Saturday night, I tried that Kale Noodle Bowl I posted about on Friday. I diverted from the recipe a bit, but it was good. I used Aduzuki Bean noodles for the first time instead of soba.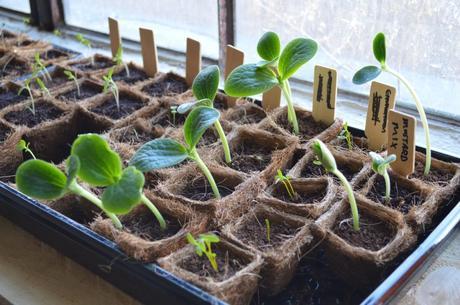 Holy sprout city! Chad's plants are coming along nicely. The big one are Black Beauty zucchini which I'm really looking forward to eating later this year!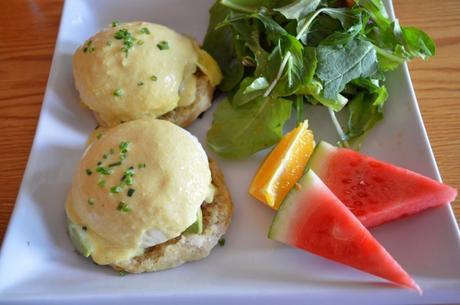 Vegan Eggs Benny at The Steady. I liked the restaurant and our server was very nice (although she did forget to give us cutlery). We also order the vegan donuts to start, but were then told they were sold out. Disappointing. The food we got though was also disappointing. I have NO idea what they use to make the actual vegan "egg" but I wasn't a fan. It was like blended salty porridge formed in a ball. Everything else was good. I liked the hollandaise sauce. I really didn't get enough "yolk" to comment on it though. I didn't even know it was there until it was too late. My brunch partner wasn't impressed with her selection either. The tofu scramble was way too watery. I've seen pictures of the scramble that DON'T look watery at all, so maybe it isn't always like that, but the woman next to us got watery scramble too.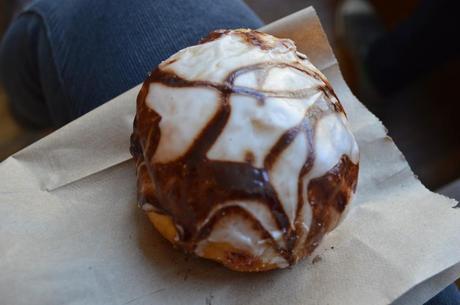 After our not so stellar brunch we went to Through Being Cool Vegan Baking Co. so I could pick up my new Firefly tee from a friend. I got this Black Forest donut while we waited for her. It doesn't look that great (I think they should have waited for it to cool before icing, and they maybe used a bit too much baking soda), but it was yummy. Loved the cherry filling.
After that, Marissa and I went to see Divergent at the cinema. We both have read the books, so we did critic it a bit, such as some of the actor choices and then just plot holes in the story itself, but overall I think it was a good movie. Some weird old man came in when it was almost over and asked me when it had started. He stayed a while then left before it ended. Movie hopper I guess.