Okay, so I groaned when I realized I had scatterbrained-ly left my makeup kit in my uncle's house.  It happens to the best of us.  My cousin, Ella, was kind enough to secure that baby the minute I texted her.  If you're wondering, that illustrated "Prettify" canvas pouch has most of my personal favorites. It's a good thing I'm a makeup bug blessed with more than enough to choose from.  Without overthinking it (and in a complete hurry) I managed to put a small temporary kit together using the pretty Kate Spade polka-dot wash bag Mom got me.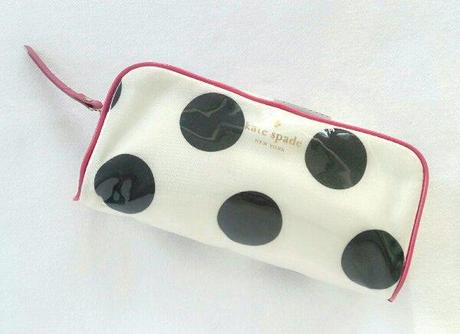 Let me significantly point out that this spare kit came together in 2 groups:
1) What I grabbed the moment I knew I left my kit the other day…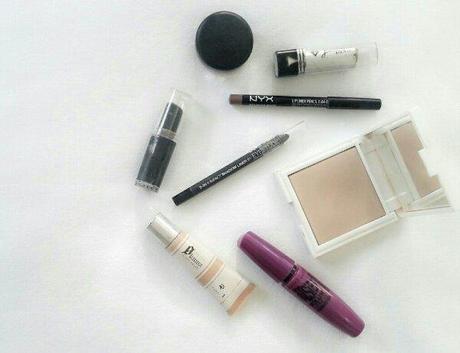 CLOCKWISE (sort of): Wet & Wild Megalast matte lipstick 902C, MAC Studio Sculpt Concealer NC30, Jordana lipstick Beige Glow, NYX Nude Beige lipliner, Korres Multivitamin Pressed Powder, Maybelline Volum Express Falsies Black Drama mascara, Okuma concealer (by k-palette), black Maybelline Eyestudio Eyeliner pencil
and 2) What I added in today with time to think.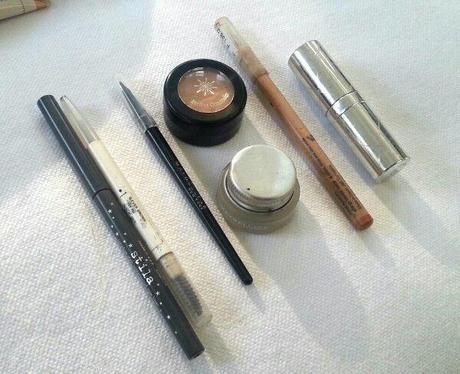 FROM LEFT: Stila Smudgestick automatic eyeliner in "Halfmoon", Za EverBrows pencil with brow brush, Maybelline Eyestudio Gel Eyeliner black (pot) & brush, Missha perfect concealer in natural beige, Nichido mineral concealer pencil (for small spots & perfecting the lip edge after lipstick), and Elizabeth Arden 8-hr Cream Stick.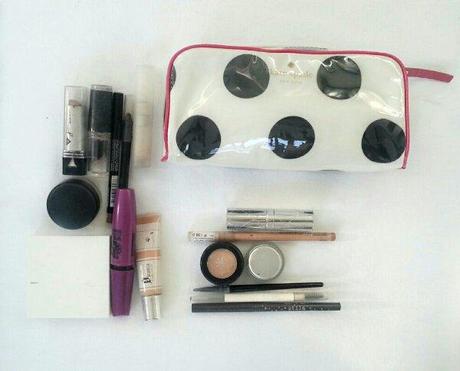 You'll notice i haven't added a lash curler and blush product that's simply coz I didn't have time and I'm being super honest. I'd probably add a lash curler and my new NARS Zen blush to make this complete but that's in the kit I left behind. I'll have my main makeup kit back with me soon enough but these will see me through.