Here we have no sweet name, no hype, no promise-laden formula, no fancy brush. You just get the delight of that bright but non-neon and still pastel sort of mint that high dives off your fingertips EVEN WHEN backlit (you need that this summer). This is FACE shop's regular polish in GR501. This is actually an eensy-bit more green in person, just a very tiny bit. I've already stopped fussing trying to get the real live shade right in the photo with color balancing, and I've checked on 3 different screens, my laptop, my Samsung android, and my Apple ipad. In general I'll just tell you it's a pop bit more green in person. There was only so much I could do to try to get the shade right across all 3 platforms. With the different warmth and calibration on various mobile screens and desktop monitors it's quite a tricky and slightly elusive shade to photograph. You'd have to offer buy me dessert to really see what I mean LOL.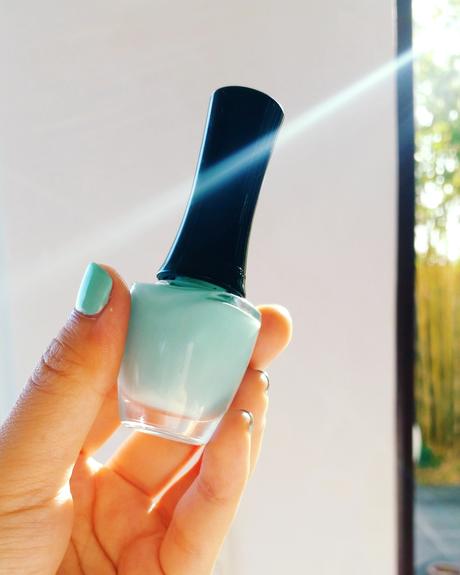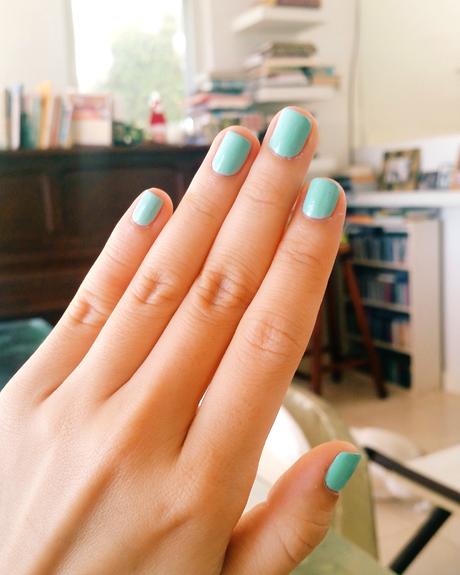 There are a gazillion brands that do this sort of on-everyone's-market mint shade but sometimes the hue doesn't have that spot on x-factor like this one does, sometimes they're either too muted or too neon, this for me is spot on. Here's what I mean by it still being a standout shade against the light. When you were young did you ever hold your hands and fingers up against the sun to space out on the red glow between your fingers? That's how I believed I was a bloody human being LOL, I was not really convinced whenever I got wounded or scratched.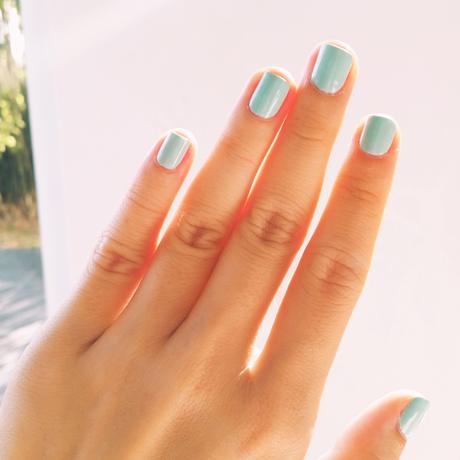 Here's where this happens to be an absolute gem, I bought this polish over two years ago after seeing it on Sam's (aka @yosameti) toes, she only had praise for the FACE Shop's polishes then as did I since they were one of the first brands of polish I bought when I first began the blog. She said this one was really nice and she consecutively repainted her toes with this two years ago. Against darker skin this is even more of a popping hue and it's gorgeous. The last time I opened this bottle was a year ago, you'd think I'd have to bin it by this time, but no it is still so good. I gave this a shake, after two years it is neither watery nor gloopy nor forming any ugly yellow oil. It's still uneven on the first coat like it always was anyway, but always perfect on the generously brushed on second layer. Price point? About Php200+ at the most if I recall correctly.