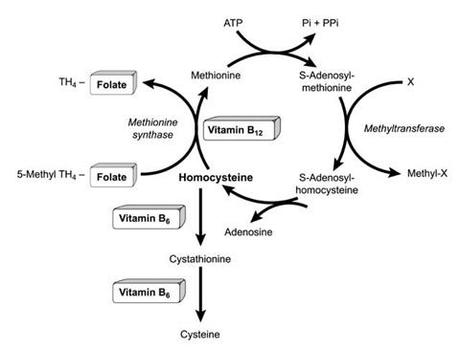 A few years ago, folic acid was in the news for potentially increasing your risk of breast cancer as well as a variety of others cancers.  And most recently, multivitamins were linked to an increase in mortality from all causes.  While correlation doesn't equal causation, these findings do present some concerns over vitamin supplementation.  My goal in this post is not to present you with a doctoral dissertation about the usage of vitamin supplements, but rather to give you a brief explanation about how folic acid (and any mutlivitamins or fortified foods containing it) can raise your risk of developing some serious health problems.
I want to cut right to the chase here and tell you that your body has no requirement for folic acid, nor does it even recognize what to do with it.  This is because folic acid is a synthetic compound that was first isolated in 1943; its use in food fortification and vitamin supplementation began in 1998.  Folate, on the other hand, is an essential B vitamin found in moderate amounts in dark green leafy vegetables, liver, dairy products, eggs, and orange juice.  Deficiencies in folate can cause high levels of homocysteine, which is associated with heart disease.  During pregnancy, a lack of adequate amounts of folate in the diet can lead to neural tube defects and cleft palate in the developing fetus.
Because folic acid (the synthetic compound pteroylmonoglutamic acid) is cheap in comparison to actual folate (tetrahydrofolate) derived from food sources.  For this reason, nearly all supplement and food manufacturers use synthetic folic acid in their products instead of the natural foods-based folate.  This is a problem because the human body often fails to metabolize synthetic folic acid, causing a buildup of folic acid in the circulatory system, even at dosages less than 400 mcg (100% of the RDA).  This is a huge science experiment because we don't quite know what all the repercussions of this include, but we are fairly certain that a buildup of unmetabolized folic acid does promote the growth of cancers.
Since you definitely do need adequate amounts of folate in your diet to prevent problems such as birth defects, cognitive decline, periodontal disease, heart disease, depression, sleep disorders, and cancer, it would be a great idea to include folate-rich foods in your diet on a daily basis.  You can obtain the RDA of folate by consuming 7 cups of romaine lettuce, 2 cups of cooked spinach, 4 ounces of calf's liver, just over a cup of lentils, ten medium-sized oranges, or about 3.5 cups of beets each day.  Unless you are regularly juicing abundant amounts of leafy greens, beets, and/or oranges each day, or consuming either a cup of lentils or 4 ounces of liver on non-juicing days, you're probably running low on folate.
Because of a mild to moderate folate deficiency, you might have elevated homocysteine (which doesn't produce any symptoms but can raise your risk of developing heart disease), low energy levels, a failing memory, or an increased susceptibility to cancer.  These are things that can largely go unnoticed for months or even years, until you're suddenly diagnoses with a disease.  For this reason, supplementation with natural folate might be a smart idea.  By supplementing with the natural form of folate found in food, you can avoid the problems that can occur when you supplement with synthetic folic acid.
There are only a few companies that use natural foods-based folate in their formularies, mainly because synthetic folic acid is cheaper and partly because few consumers really know the difference between folic acid (synthetic) and folate (natural).  One foods-based multivitamin that I really like and find to be a safe, effective, high quality formulation is the Designs for Health Multi with Copper (see below).  Besides the fact that the nutrients in this supplement are foods based, rather than synthetic, the company also includes both vitamin K1 and vitamin K2 in this multi, which is rare to find.  (I have written about the benefits of vitamin K2 in the past, and how it serves a different purpose in the body than vitamin K1.  Namely, it prevents calcification of the arteries and joints, while halting loss of calcium from bones.)  Scroll down to the bottom of this post for more information on the Designs For Health Multi.

Another good supplement that provides a variety of B vitamins, including folate, is a grass-fed whey protein powder called PaleoMeal.  It comes in several flavors that taste really good, and I like to use PaleoMeal when I can't always obtain raw milk for breakfast.  I just mix it with ice, frozen berries, a raw egg, sea salt, and about a tablespoon of coconut oil, and then make it into a smoothie using a cheap blender from Target.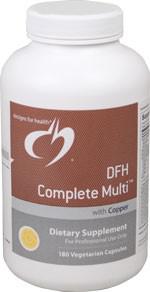 Click Here to Purchase Yours Today!
DFH Complete Multi with Copper 180 vcaps
Dietary Supplement
Supplement Facts
Serving Size: 6 Capsules
Servings per Container: 30
Amount per Serving
Vitamin A (as mixed carotenoids from palm tree fruit) 7142 IU
Alpha Carotene 24 mg
Beta Carotene 70 mg
Vitamin C (as ascorbic acid) 600 mg
Vitamin D (as cholecalciferol) 1000 IU
Vitamin E (total natural tocopherols) 300 mg
as d-gamma 205 mg
as d-delta 60 mg
as d-alpha 25 mg/37.5 IU
as d-beta 10 mg
Vitamin K 550 mcg
(as vitamin K1-phytonadione 500 mcg; vitamin k2-menaquinone-7 50 mcg)
Thiamin (Vitamin B-1)(as thiamine HCl) 75 mg
Riboflavin (Vitamin B-2) 75 mg
Niacin (Vitamin B-3)(as niacinamide) 75 mg
Vitamin B-6 (as pyridoxine HCl) 50 mg
Folate (NatureFolate blend) 400 mcg
Vitamin B-12 (as methylcobalamin) 500 mcg
Biotin (as d-biotin) 500 mcg
Pantothenic Acid (as d-calcium pantothenate) 250 mg
Calcium (TRAACS calcium glycinate chelate) 100 mg
Iodine (as potassium iodide) 200 mcg
Magnesium 200 mg
(TRAACS magnesium glycinate chelate buffered)
Zinc 25 mg
(TRAACS zinc glycinate chelate)
Selenium (as selenium glycinate complex) 250 mcg
Copper (as TRAACS copper glycinate chelate) 2 mg
Manganese 1 mg
(as TRAACS manganese glycinate chelate)
Chromium 200 mcg
(as TRAACS chromium nicotinate glycinate chelate)
Molybdenum 100 mcg
(as TRAACS molybenum glycinate complex)
Potassium 100 mg
(as potassium glycinate complex)
Trimethylglycine 200 mg
Choline (as citrate) 100 mg
Inositol 100 mg
Quercetin DiHydrate 25 mg
Rutin 25 mg
Alpha Lipoic Acid 10 mg
Hesperidin 10 mg
Boron (as boroganic glycine) 2 mg
Vanadium 100 mcg
(as TRAACS vanadium nicotinate glycinate chelate)
Other Ingredients: Vegetable stearate, microcrystalline cellulose, silicon dioxide.
Recommended Use: As a dietary supplement, take six capsules daily, two with each meal, or as directed by your healthcare practitioner.