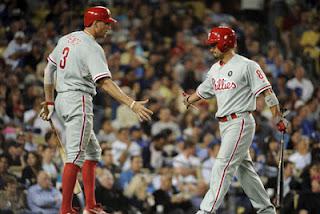 Photo: Getty Images
- Troy Ballard
I've said it before, and I'll say it again — the Philadelphia Phillies' run of excellence ended far more quickly than it should have.
For a fan base that had finally adjusted to the
World Series this year
 sort of mentality, this collapse is mind numbing.
And that's the key word of it —
collapse
.
No other description fits the bill for what has happened in Philadelphia. We're talking about a team that was oft regarded as the Yankees of the National League — but New York has never had this happen.
Nothing close. This is something only a Philadelphia team could pull.
Yes, this could be nothing more than a knee-jerk reaction to arguably the most underwhelming Phillies' season of the last decade. This whole dilemma could be simply blamed on untimely injuries to key players. Philadelphia's rapid slide into last place in the NL East can even be blamed on the copious amounts of talent the rest of the division acquired this off-season.
But it's worse than that.
There are a laundry list of technical and statistical reasons why the Phillies are losing. Everything from lack of run support to a non-existent bullpen, with strong evidence, could be blamed. That's too easy. There are deeper reasons than that, and ones that as a fan, it's tough to admit.
Hell, when news was floating around that Shane Victorino (awesome dude, but his play didn't match his contract), Hunter Pence (kid was awesome last season, this year was miserable) and the team basically went borderline fire-sale — the world about came to a total stop.
This Phillies team was the one sign of stability in the entire Philadelphia-sport-ecosystem. Even though there were few wins this season, that lineup was consistent. We knew what the deal was. There wasn't too many wildcards. Disappointing, sure. But we knew the team.
With the trades of Victorino and Pence, the balance has been rocked. The lineup will soon be loaded with new prospects, players few of us casual fans really know, and any sense of familiarity has been totally wiped.
Along with those new prospects and absence of peace of mind, that
world series this year
talk has quieted for the immediate future. Despite the talent still on the roster, the word
rebuilding
has already been said more times than desirable.
This era isn't over, but it's close. Or maybe that's my own fandom blocking reality. Regardless, it ended too quickly and too abruptly — and no one was ready for it. The sudden tidal wave of losses and lack of wins was something that most Phillies fans had basically forgotten.
We're learning quickly. Hopefully these new players do too, and the future is more like the recent past and not the past-past.
Be Sure to follow Beard and Stache on Twitter @BeardAndStache, and also Troy @TroyBallards, like our Facebook page HERE!